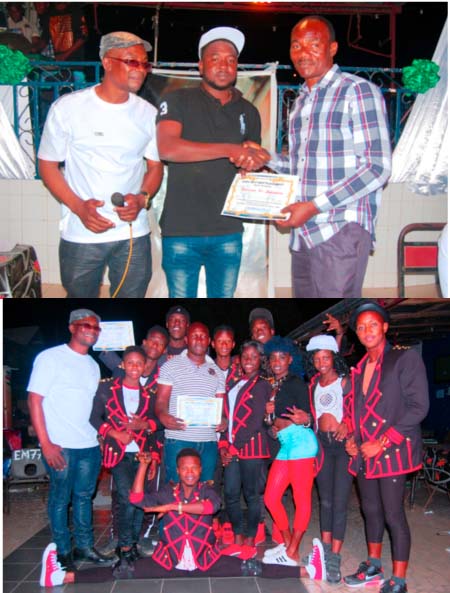 Don Entertainment is organising a dancing competition in March 2017, to showcase youth talents in dancing.

Speaking in an interview with The Point Entertainment and Lifestyle yesterday at Churchill's Town, Don Kingsley EzeNgadi Don, the brain behind the event, said this programme is organised by Don Entertainment and sponsored by Mr John Ebokah CEO CJ International Holdings to bring youths and showcase their talents in dancing.
He added that the event is the fifth season, and they had done season one, two and three, for which D50,000 was provided for the competition.
"Now we are talking about mega dancing competition which is going to be the highest price, which is D60,000 and we are looking at season five by mid-March."
He said the qualifications for one to be part of the competition are that one must be a professional dancer or must be a good dancer, because they watch how people are dancing and it depends on how you dance.
"This particular one is going to be different, and this time is called Dancing Nawettan, whereby we would have dancers from Bakau, Sukuta, Tallinding, Ebo-Town, Lamin, and Brikama.
"I have discovered that in this areas like Banjul, Sukuta and Brikama; they have good dancers, so it is better to bring those good dancers to compete and, at the end of the day, the money is a little bit substantial for them to at least to come up to start doing something, that would help them not to go through the back-way. That is what we are trying to do to get youths busy doing something."
"We want to concentrate within the Greater Banjul Area, but as time goes on we would be spreading countrywide. We also have a lot of talented musicians, who can also do something when they are supported; and we are trying to encourage every youth to ask those talents to come up and do something. This programme is going to be rotational. We will have it in Banjul, Bakau, Sukuta, Lamin, and Brikama; so we are going to make it."
Mr John Ebokah, CEO CJ International Holdings, was the co- sponsor of season 4 while the main sponsor was IBB International from Packer Market.
Mr John Gambia, who is the main sponsor of this event, said this is a programme of Ebokah CEO CJ International Holdings, organized by Don Entertainment.
"I want to thank Don Entertainment for the good move taken to bring the talents people together to showcase their talents."
According to him, the last programme was so interesting that they want to thank Don Entertainment for his efforts, as well as those who want to sponsor this program.
"I decided personally to come in and see how best he can bring those Gambian talents in dancing."
He said there are some Gambians who could dance, and he wants to call upon his business partners to come and join him in sponsoring this programme.
"It would go a long way to promote the tourism industry, and it would go a long way into the country. So we are calling on sponsors to come and join us so that the prices will go higher than the last time, which was D20,000; but I personally handled it and sponsored it and it is going to be D60,000."
Read Other Articles In Article (Archive)