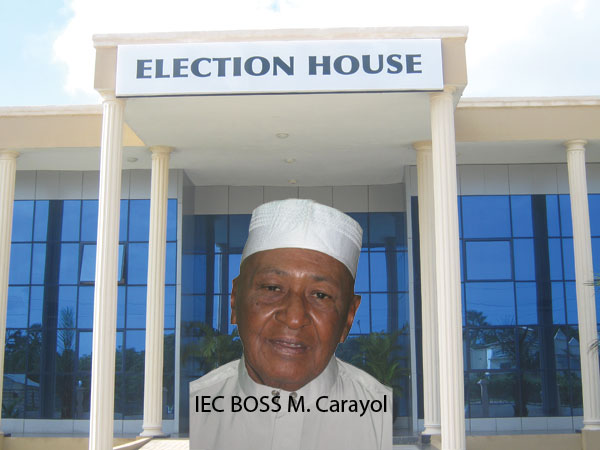 Nominations were held yesterday at the office of the Independent Electoral Commission in Basse Mansajang for the forthcoming Sare Ngai Ward By-election in Wuli West Constituency in the Upper River Region.
Two candidates were nominated by the ruling APRC and opposition National Alliance for Democracy and Development parties.
Speaking to reporters shortly after his nomination, Alkali Kebbeh, the APRC nominated candidate, expressed optimism that come October 28th he will emerge victorious.
According to him, he is the right candidate that the people of Sare Ngai Ward need, since he is committed to ensuring that all the people in the ward benefit equally from the ward's resources.
He used the interview to appeal to his supporters to maintain law and order throughout the campaign period. Alkali is a native of Wuli Barrow Kunda.
Meanwhile, the NADD candidate, Menkeh Ebrima Barrow, was at first rejected by the IEC returning officer, Robert Anthony Secka, for failing to tender a leave letter from his employer, the Ministry of Basic and Secondary Education.
However, as a result, Barrow rushed to the Regional Education Office, and forty-five minutes later tendered a letter from the ministry of Education stating that he is a temporary employee.  As a result, his service was terminated as an unqualified teacher. Consequently, upon meeting all the nomination requirements, the NADD candidate was also nominated to contest for the vacant area council seat.
The NADD candidate told waiting journalists that the said by-election would be keenly contested.
He stressed that people pay their tax for development, and when elected he would ensure that they reap the benefits of the tax. He is also confident of winning.
Menkeh, a citizen of Jah Kunda, said: "I will not use this opportunity as a gateway, but would rather serve my term completely if elected." He was responding to a question as to whether he would not also force people into another by-election, as all the two immediate past Sare Ngai ward councilors were from his village, but never completed their terms.
Both candidates were nominated by 75 people each.
Meanwhile, Robert Anthony Secka, the IEC returning officer admonished both candidates and their supporters not to allow politics to divide them. He added that politics comes and goes, but families remain.
He stressed that "it takes one minute to destroy, and takes centuries to build".
It would be recalled that the Sare Ngai ward councilor seat was declared vacant, following the resignation of APRC's Momodou Barrow of Jah Kunda.
Read Other Articles In Article (Archive)