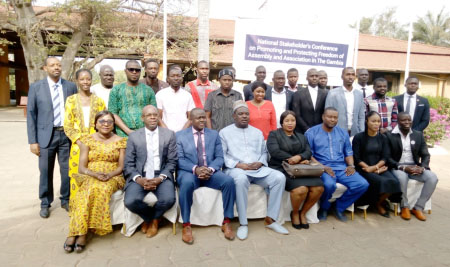 Salieu Taal, the president of The Gambia Bar Association (GBA) has said that the application and authorisation of the Public Order Act is a major challenge for the citizenry and the state, saying the objective of the Act is primarily to maintain peace and order during a procession.

"As a country that has a peaceful transition from dictatorship barely three years ago, the citizenry are more than ever cognizant of the importance of exercising their fundamental rights under our constitution. Under our current democratic dispensation, we are witnessing a more vocal and active citizenry, activist among others," he said.
Mr. Taal was speaking yesterday during the opening of two days national forum on promoting and protecting freedom of assembly in The Gambia at a local hotel in Senegambia. The two day convergence was organised by the GBA under the theme: 'Reflecting on the Current Trends and Operationalisation of the Republic of The Gambia.'
The right to freedom of assembly, he added is guaranteed in various regional and international instruments The Gambia is a party to as a state. The GBA president said: "No suitable regime will determine when, where and sometimes why citizenry can actually protest. The exercise of right of freedom of assembly peacefully is a cornerstone of any vibrant democracy."
Cherno Marenah, solicitor general of The Gambia on behalf of the attorney general and minister of Justice said: "The country came from a 22 year coma and like every patient who has been in comma for that long we expect that his work or his attempt to work would be unbalanced and of course a bit slower than that of those who have been on the journey for a long period of time."
He added: "Of course, that is not an excuse for the derogations of fundamental rights such as freedom of association and assembly. The Ministry of Justice values all fundamental freedoms and it is not a co-incidence that the first pillar of our NDP talks about good governance that is anchored on the rule of law and respect for human rights."
The Ministry of Justice, he went on, had formulated its own transitional strategic plan anchored on three pillars; and key among them is the constitutional building, institutional building and strengthening such. The establishment of the anti-corruption commission is underway as it is before the National Assembly.
He maintained that freedom of assembly and association are fundamental pillars of any democracy and good governance. Therefore, freedom of association and assembly are matters that the Ministry of Justice takes very seriously as they are the essential tools for citizen participation and grievance outlets for citizens between elections.
Gaye Sowe, executive director of Institute for Human Rights and Development in Africa (IHRDA) underscored the importance of the convergence, while expressing optimism that the participants will come out with tangible recommendations that will be of benefit to the citizenry.
Read Other Articles In Article (Archive)