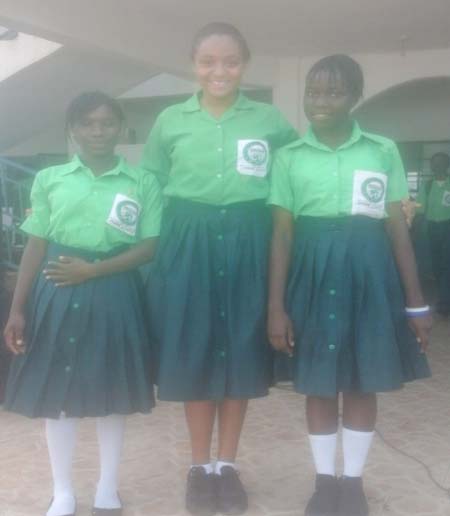 Apple Tree International High School on Friday awarded three best student writers following the maiden writing competition organised by the school.
The students were given the task to write on the impact of technology on mankind. Eleven students took part in the competition of which three emerged victorious.
The three winners were each given certificate and cash prize: the first winner received D1,500; the second D1,000, and the third D500.
Hancy Paul, teacher and head of languages department at Apple Tree, said the competition was the first time the school had organised such an exercise.
She noted that they have learnt a lot from it and that experience will be used to make the next competition bigger and better.
She said the writing competition is expected to help the students to cultivate the habit of writing.
"Writing is an art that must be practised; if you do not practise it you cannot do it meaningfully," Mrs Paul said.
She further said there are plans to extend the writing competition, which is to become an annual event, to the primary and nursery schools, to enhance the writing skills of the pupils there.
Apple Tree school head of languages department called for support to the competition as the school would not be able to shoulder the financial burden involved in staging such an event.
"We are looking for more sponsors and encouragement to help us empower the students to be better writers in the near future," she said.
Commenting on the importance of writing and reading, Musa Jallow, an actor, said the joy of writing comes together with the joy of reading and listening.
"There is joy in writing a book and there is joy reading it and there is as well a joy in listening to the explanation concerning that book," he said."Reading expands one vocabulary and makes you a good writer and speaker."
Mr Jallow encouraged students "to keep reading anything that come across your way".
The overall winner of the Apple Tree school writing competition, Mariama Jeng, a grade 11 student, expressed her excitement for winning the award, saying: "I never thought of winning the competition."
She added:"Initially, I was hesitating to join the competition but mum inspired me to participate and she encouraged me to believe that I can win. Finally, I have won."
Mariama called on her fellow students to take part in the next writing competition, saying there is no magic in winning the competition; all that is required is to believe in yourself and give it your best.
Read Other Articles In Article (Archive)