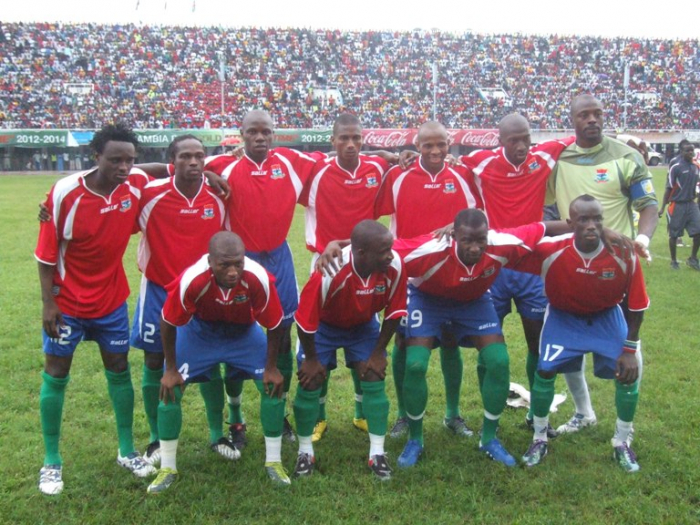 The Scorpions of The Gambia have dropped out of the first 100 teams in the globe in the latest Fifa rankings released on Wednesday.
The Scorpions, who celebrated a score of 91 in the world and cemented their position on 22 in Africa last month, have now fallen back to 102 in the world and 27 in Africa.
The Scorpions are faced with the daunting task of pulling a qualification berth for the 2012 Africa Cup of Nations Qualifiers after stiff challenges from group mates Burkina Faso after succumbing 3-1 to the Stallions of Burkina Faso earlier this month.
Other dropouts in the continent include African champions Egypt have dropped out of the top ten. The Pharaohs' drop to 11th means there are no African teams among the world's best sides.
However, Ghana have moved up three places to 17th while Ivory Coast have leaped four places to 19th.
World and European champions Spain remain top of the rankings, while beaten World Cup finalists Netherlands stay second and Brazil have moved up a place to third.
Meanwhile, Tunisia have moved up 11 places to make it into Africa's top ten.
The biggest movers in Africa are the Central African Republic, who have jumped 60 places to a 112th in the world and 28th in Africa, largely thanks to their 2-0 victory over Algeria in an Africa Cup of Nations qualifier earlier this month. It's the CAR's highest ever Fifa ranking.
Niger, who also recorded a shocking 1-0 victory over Egypt on the same day, are big movers too, having jumped 54 places to 26th in Africa and 100th overall.
Africa's top ten: (World ranking in brackets)
1. Egypt (11), 2. Ghana (17), 3. Ivory Coast (19), 4. Algeria (33), 5. Nigeria (34), 6. Burkina Faso (37), 7. Cameroon (38), 8. Gabon (39), 9. Tunisia (45) and 10. Guinea (47).
Read Other Articles In Article (Archive)