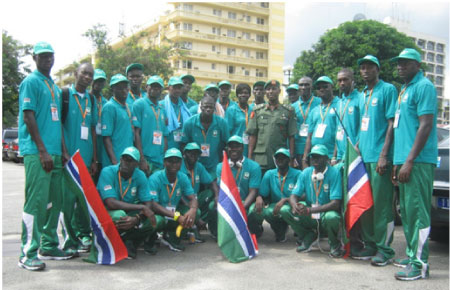 The Gambia's campaign at the 8th edition of the African Military Football Tournament in Abidjan is over. They were hoping for the appeal case against Kenya by Burkina Faso who alleged that the Ulinzi stars used an unqualified player would go their way.
But following series of tempestuous emergency meetings by the organizers, The Organization of African Military Sports OSMA, the appeal case seems to have hit a dead rock. The Gambian delegation on Tuesday night bitterly fought for their case in a technical meeting preceding Wednesday's quarterfinal matches.
But rather surprisingly, in an interview with West Coast Radio, the Gambian head of delegation Colonel Momodou Lamin FK Jammeh, just from an OSMA meeting, said Burkina withdrew their case that effectively ended any hopes of Gambia replacing Kenya.
Ivory Coast, Guinea, Zambia, Angola, Kenya, Burkina Faso, Cameroon and Mali are the 8 countries confirmed for the quarterfinals of the African military football cup. These teams nailed down their places at the conclusion of the group phase matches. In group A, Mali made a success by qualifying on Saturday, December 8, 2012 at the stage Robert Champroux de Marcory. The Malian Military team ended the hopes of their counterparts from Nigeria winning by a score two goals to one (2-1).
With that first victory, Mali ensured its place in the next round. Zambia and Guinea drew (2-2) at the stage Robert Champroux last Saturday. With this result, the southern Africans take the lead in the group with four points. In spite of its heavy defeat against Cameroon in Group C, Angola will be able to take part in the second turn thanks to the withdrawal of Uganda.
And already there are results from the first two quarterfinal games, Ivory Coast have beaten Guinea by 2 goals to 0 and Mali also won Zambia by a goal to nil. The matches were played at 9am. So, Ivory Coast and Mali have won tickets to the semifinal and Azerbaijan 2013. At the time of going to press, Burkina Faso was taking on Cameroon and Kenya playing Angola in the two remaining quarter finals.
Read Other Articles In Article (Archive)