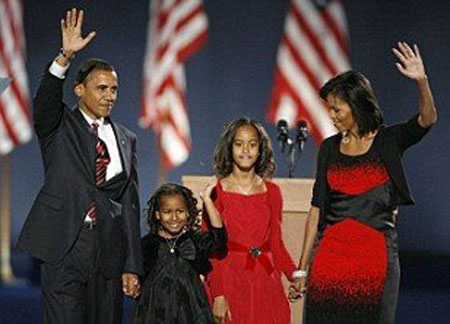 Change has come to America after the election to the nation's highest office shatters racial barrier.
Obama has been elected with a landslide victory, as first African -American presidential candidate. The biracial son of a Kenyan father and a white mother from the heartland, Obama because of his eloquent speeches made history and secured a historic presidential victory.
The main reason For Obama winning this election is the fragile economy of America. 62% voted for the economy issues which show 800,000 people retrenched and many financial institutions closed.
About 10% voted for the Iraq Issue. According to military sources, the war which started since 19th March 2003 recorded a staggering 30,764 American soldiers wounded whilst 4190 soldiers killed. Every month the US government spends ten billion US Dollars in Iraq.  For most Americans, this is just wastage of human and financial resources. Obama capitalised on the mistake of the republicans to draw a programme to rewrap the economy and stop the war.
Obama's "change we need" slogan reflect his campaign emphasis on taking the United States a new direction.
Obama has advocated a steady timetable for withdrawing US combat troops from
Iraq, although he would leave some for training and antiterrorism mission.
Most of the Americans that I spoke tosaid, "In the US you have multiracial people, to be black does not mean you should not be president of the Republic, we saw in the country blacks who used to occupy top jobs, the army, foreign affairs to name few. This election economy was the main issue and not race."
Majority of Americans elected Obama because of his vision, intellect, and charisma and currently he is the only politician who can unite Americans, America and the rest of the world.
Obama won 338 electorate votes more than the requirement which was 270, and McCain got 156. MacCain' age, health, the financial crisis, and his dream to continue Bush policies broke his chances to be president.
Now the democrats are comfortable after wining the presidency and will control both the senate and the congress.
Read Other Articles In Article (Archive)