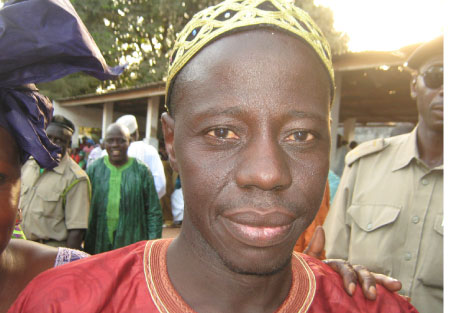 The newly-elected chairman of the Brikama Area Council, BAC, has said that by virtue of his experience as a councillor for the past 10 years, he will live up to expectations in serving the electorate to the best of his ability.
Bakary Saibo Sanneh, councillor for Kasumai ward, was elected chairman of the Brikama Area Council on Monday, after receiving more votes than outgoing BAC chairman Sunkary Badjie, in a tightly contested election.
In his first interview with journalists after his election, Sanneh thanked the electorate and his fellow councillors for their high sense of commitment in entrusting him with the affairs of the council for the next five years.
His election, he said, is a clear indication of the trust and confidence bestowed on him by his peers to serve as the chairman of the council.
According to Sanneh, all what is needed now is a collective effort and team work to ensure that the concerns and challenges of the electorate are addressed at the council level.
While calling on is fellow councillors to forget about their political differences and work for the interest of the electorate, chairman Sanneh assured all that with the support of his colleagues, he will do his best to make sure that the image of the council remains in the record books of The Gambia.
Further noting that among his priorities is to make sure that the welfare of electorate is attended to, the BAC boss said council's reputation will be replicated during his five year tenure in office in ensuring that the electorate get the require services.
'I will live up to expectations to ensure that the council ploughs back taxpayers money to electorate in the form of development projects,' he said, adding that what is needed is a collective effort to move the agenda forward.
He urged his colleagues to cooperate, and work together in the best interest of the tax payers.
It would be recalled that three people contested for the position of the chair at the BAC, with Bakary Saibo Sanneh polling nine votes, Sunkary Badjie, former chairperson securing seven votes while Lamin Jamba Jammeh, councillor for Kartong ward polled eight votes.
Mariama Bah-Saine, councillor for Banjulinding ward, was also elected as the new vice chairperson of the Brikama Area Council.
Corrigendum
Meanwhile, in our Tuesday's story about the election of the new chairman of BAC, we inadvertently referred to the new chairman as Lamin Saibo Sanneh.
The new chairman is Bakary Saibo Sanneh instead of Lamin.
The error is deeply regretted.
Read Other Articles In Article (Archive)