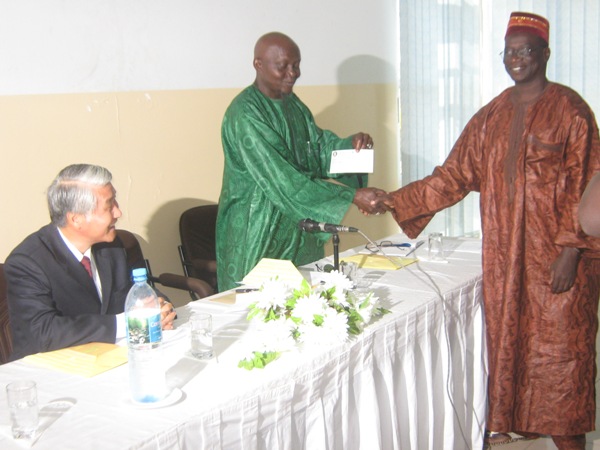 The Taiwanese ambassador to The Gambia, Dr Richard Shih, on Monday presented cheques valued more than D300, 000 to the regional agricultural directors.
The gesture is in recognition of the regional directorate in increasing rice production in the country and their efforts in making the Gambia upland rice project successful.
The first cheque for D100, 000 was awarded to the West Coast Region, as the first price for the 2010 best price of the project.
The North Bank Region took second and went away with another hundred thousand dalasis.
Meanwhile, encouragement prizes of thirty thousand dalasis were given to all the other remaining agriculture regions in the country.
The Taiwanese diplomat first presented the cheques to the deputy minister of agriculture, Khalifa Kambi, who in turn handed over the cheques to regional directors.
According to Dr Shih, the cheques are presented in recognition of the various regional agricultural directorates in the country in boosting rice production.
The funds form part of The Gambia Upland Rice Expansion Project. A four-year project being implemented by the Ministry of Agriculture and the Taiwan Technical Mission.
The cheques were presented at the conference hall of the National Nutrition Agency in Bakau during a review and planning meeting of the project.
According to him, the success of the project came through the joint efforts of the Ministry of Agriculture and the Taiwan Technical Mission.
Meanwhile, shortly after the presentation, the regional directors shared their impression with journalists.
Ebrima M.L. Saidy Regional Agriculture director of West Coast Region, expressed happiness over the gesture.
"Well I am very much excited; last year we took 2nd and I promised that come this year we will take first and here we are," he said.
He said he would use the funds to strengthen his administration while thanking his team for their hard work
The North Bank Region Agriculture director, Dr Saikou E. Sanyang, thanked the Taiwanese embassy for the support. "I am very much impressed and delighted as this came to me as a surprise," he said.
The objective of the whole initiative is to increase food production, especially rice, to reduce hunger and poverty, he says.
"I am very much grateful to my field workers for their efforts," he said, adding that he would use his funds to purchase some technological materials and do some office refurbishment.
The Regional directors of URR and LRR, Mbemba Dahaba and Habib Touray respectively, said the assistance would give them more impetus to do well in their respective regions.
Musa M. Huma and Ousman Jammeh, regional directors of CRR North and CRR South respectively, said the gesture would surely motivate them to redouble their efforts.
Dr Sait Drammeh, director general of Agriculture, said the awarding, which has become a tradition, "is timely". "It started last year and is encouraging," he said.
He advised the awardees to take the funds to their regions to make their workers feel proud of their work.
Read Other Articles In Article (Archive)