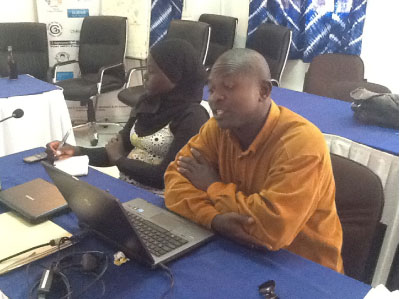 Hello and a warm welcome to another edition of the Environment, your weekly column that bring environmental issues to the limelight.
In our today's edition, we try to look at the forestry sub-sector policy 2010-2019 as a cross cutting issue, governing the sustainable use of the forest and forest resources, a document prepared by Mr. Lamin Njie, forestry officer at the department of forestry.
According to him, the Government recognised the prospects of a balanced ecosystem in advancing the socio-economic development of the country, through policy framework for sustainable natural resource management.
The preceding forest policy, 1995 to 2005, he explained, proclaims that a forest cover of 30% is sufficient for maintaining an ecological balance necessary for sustainable economic growth.
Some of the implementation preceding forest policy faced critical constraints, such as increasing population pressure on land resources, and the inability of the natural resource sector to meet the increasing resource demand, the inability of various users to take full responsibility of balancing supply and demand for forest resources.
Among the constraints also includes inaccessibility to land and difficulties in securing extended tenure (to match the long-term benefits of investment in forest resource development) for private foresters, poor marketing system for forest products and inability to stimulate adequate private sector response to investment possibilities in forestry amongst others.
These constraints constitute major challenges in the implementation of the policy under review. It is therefore, essential that adequate remedial and protective measures are applied in a systematic manner to sustain a sound forest resource base for meeting the specific needs of the local population.
The alarming rate of degradation of forest resources
•The Government has recognised the alarming rate of degradation of forest resources, and has commissioned an institutional review, and an update of the preceding policy.
•The review reflected the poor implementation of the policy provisions resulting to under-achievement of the envisaged targets.
•The review showed that traditional domestic energy has not been adequately addressed as a key policy objective.
•It was argued that domestic energy is vital; hence the need to develop a comprehensive long term responsive policy in line with development needs of energy resources for economic growth.
The strategy for this policy period, 2006 to 2016
•The strategy for this policy period, 2006 to 2016, will have to build on the existing strengths and plug the perceived weaknesses.
•One key area is the need to improve the department's capacity to manage change.
•The current competence base needs to be hugely augmented to deal with the proposed decentralisation and empowerment agenda (at the micro level) and the emerging institution-building, and policy research and implementation agendas (at micro and macro levels).
Research and development on alternative socio-economic uses of forest resources
•Similarly, the whole area of research and development on alternative socio-economic uses of forest resources (e.g. medicinal trees and herbs) needs to be augmented.
•The need to improve learning mechanisms and the M & E system is obvious, as also is the need to harmonise and build synergies between related sectors.
•The organisational culture has to move to become much more knowledge-base and supportive of innovation. Strategies to develop a more comprehensive funding mix are also required.
•With respect to the external positioning, Department of Forestry has to fully exploit its potential to facilitate a coalition for forest resource management by taping from the prospects of institutional linkages.        
In the role of facilitating joint action by related sectors
•In the role of facilitating joint action by related sectors, the Department of Forestry will continue to play a collaborative, nurturing and cutting edge role.
•Building the capacity of local government councils, private sector and other civil society institutions to engage on effective forest resource management will receive even greater focus for the department.
•Department of Forestry's relationship with the levers of power within government, partners and donors, and the corporate sector will remain cordial, and this is an edge for the department to stimulate civil society and private sector involvement in forest resource management.
•This will be a radical move, and the risks involved in the process are all too clear; but the available political will can provide the strength to proceed.
•At the same time, Department of Forestry will strive to work closely with related sectors, relevant authorities in NEA and Environment Ministry to benefit from their experiences and exploit synergies of collective action.
•Although public-private partnership will increasingly be required in forest resource management, securing the tenure-rights for an extended period to match the long-term benefits of private forestry will be reviewed.
•Department of Forestry will remove the present huddle, which is the limited period for tenure-rights in private forestry.
Private sector participation
•Private sector participation in harvesting and marketing of forest products is currently limited to only processing and selling of wood for construction and furniture production.
•However, what remains to be accomplished is adding value to non-wood products for both local consumption and export.
•Both production and processing companies can be active in their niche areas; for instance, the production of medicinal plants and genetic materials for the pharmaceutical industry. 
•Department of Forestry will develop strategies for exploring emerging markets for forest beverages (local tea) and 'green' products harvested or crafted by the poor. 
The policy provisions/strategies
•The policy provisions/strategies will include civil society and private sector participation in forest resource development and management, and ecotourism.
•These strategies will be advanced in tandem with cross - sectorial strategies while recognising cross-cutting issues of concern:
•To develop the economic use of forest products by local industry;
•To protect the natural fauna and flora of the forest environment;
•To promote integrated approach to natural resource management; and
•To optimize government revenue and/or community benefits from the forestry sector.
•The new forest policy is formulated within a national policy framework that provides an enabling environment for private sector investment, civil society participation and socio-economic development.
•The policy recognises government's strategic shift towards poverty reduction and economic growth, which underpins vision 2020, the Gambia Environment Action Plan, Local Government Reforms and Decentralisation, Strategy for Poverty Alleviation II (Poverty Reduction Strategy Paper), National Action on Desertification etc.
•The provisions will accommodate government's decentralization process; and demand driven "bottom-up approach" strategy of the Local Government Act, 2002.
•This Act places management responsibilities on the Local Government Area Councils for a range of natural resources under their jurisdiction. 
For your comments, suggestions, contributions please (00220) 6361340 or 7142236 or Email: bajgambia2011@yahoo.com
Read Other Articles In Article (Archive)