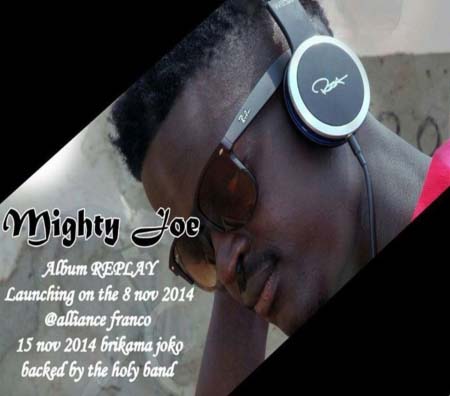 Mighty Joe aka the Tsunami said all is set for his album launching this weekend November 8th at the famous Alliance Franco. In a press release sent o media houses, Mighty said the show will be a live band performance featuring all the big names in Gambian music at the moment.
On November 15th the following weekend, Mighty Joe will be in Brikama Jokor for the second leg to bring the show to his native town fans, according to the media release.
There will be album sale of the REPLAY album at the venues of both shows; T shirts will also be available for those who are interested.
Mighty Joe took the opportunity to thank all the media houses, especially radio stations for the sponsors. Also thanked all those who contributed in one way or the other to the success of the show. Special thanks to the Tsunami foundation whose members have had sleepless nights to make sure the launching is successful.
'As usual, I'm going to release a double album in one night, that is, an audio CD and video album. I have a fan base in Gambia and it looks like Alliance will be full to capacity, so I'm advising people to come early and get comfortable places to sit and watch me whiles I give them my popular hit songs. My fellow Gambian artistes will be there to support me, tickets are only D150 before mid-night.'
Mighty Joe in 2012 released a double album calling it 'where did the music go'. Alliance was full to capacity and the album got finished at the gate. He has appeared in top music platforms in the country among them the popular Open Mic festival. Mighty Joe also got a lot of support from the Office of the President.
Read Other Articles In Article (Archive)