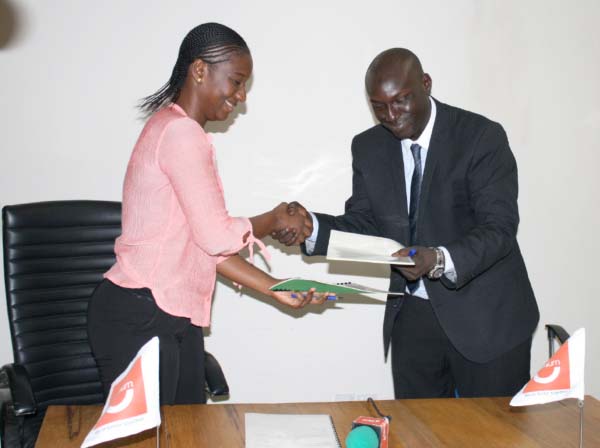 The mobile communication sector on Wednesday 21 September 2016 witnessed the coming into partnership between the GSM giant Comium and the newly incorporated innovative SMS service providers Alchemy Marketing International Ltd aimed at operating closely together in view to introducing SMS business and public communication into The Gambia.

In complimenting the already existing services provided by our local ASM operators, the innovative SMS platform developed and powered by Alchemy not only provides quick and affordable transmission of information but also it reliability as information plays a key role in the economic development of our beloved nation, The Gambia.

The SMS marketing push is something that is used solely by businesses or institutions who wish to advertise themselves. During this process, the firm or institution will send an SMS to the intended recipient in order to advertise, for example, a new product or an offer that has just been introduced. A massive 91 per cent of adults have their mobile phone within arm's reach, 24/7.
However, despite the high smartphone penetration, most Gambian retailers aren't tapping into the full potential of SMS to increase sales, improve the customer experience and reduce operating costs. SMS not only has a 98 per cent open rate, but 90 per cent of messages are read within just three minutes. If that doesn't make SMS a smart way to get urgent messages seen by customers, frankly we don't know what does. With Alchemy's platform reaching all mobile phone users in The Gambia, you will even receive notifications of 'clean up day', banks will be able to SMS directly to customers, messages include things like periodic account balancing reporting, successful payment of issued cheques, insufficient funds notifications, password authentication, large payments on credit card balances, and other related notices.
As opposed the push SMS the pull SMS enables the customer to acquire information, promotional codes, or participate in games and competitions through SMS to a prescribed Code assigned to any particular operator.
Imagine going 'access to text' for instance – 1818 to your favorite radio station requesting for a birthday wish, a record to be played, to vote for your preferred talent show contestant on new and exciting TV shows. Not waiting hours for delayed flights, by SMS you can received exact departure and arrival times.
The alchemy's innovative SMS solution is the MULTI-PLATFORM SYSTEM that will work across all networks in the Gambia providing push and pull marketing SMS.
THE POSSIBILITIES ARE ENDLESS!!!!
ALCHEMY'S INTERACTIVE SMS – LIVING INNOVATION!!!
Read Other Articles In Article (Archive)