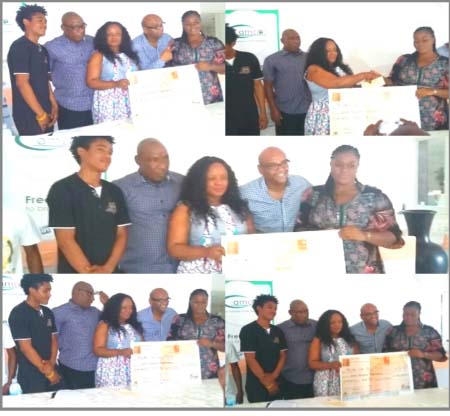 The winner of Rising Stars Africa TV show has been presented with a cheque of D100,000 by Bangs Entertainment, organisers of the show, on Saturday at a ceremony held at a hotel in Bijilo.

Sunita Daffeh outshone others to win the much coveted prize due to her impressive singing exploits.
The Rising Stars Africa is a popular reality show on the national TV, GRTS, held in form of a talent competition which provided the participants, mainly youth, a platform to showcase, display and discover their God given talents.
The CEO of Bangs Entertainment and producer of Rising Stars Africa, Mariama Bangura, said her quest is to make dreams come true as there are talented people out there who are yet to be discovered.
She said Bangs Entertainment aims to discover young people whose dreams are to become renowned musicians, actors, dancers, poets etc.
Mrs Bangura encouraged parents to be constructively and actively involved in their children's life and to serve as a source of motivation and inspiration to the children.
She congratulated Sunita Daffeh, winner of the competition, and encouraged her to be more steadfast.
She further commended GRTS and the sponsors of the programme, Gamcel, saying the two institutions as well as the judges and the participants "immensely contributed" to the success of the show.
Kemo Jatta, senior marketing manager of GRTS, said the show was successfully aired throughout its allocated timings.
Mr Jatta hailed Mrs Bangura for coming up with such "electrifying programme".
Sunita Daffeh, the winner, said she was grateful to God, her parents, family and friends for their tremendous help, support and patience during the entire duration of the competition.
"It was not something I planned. I saw it on TV and decided to give it a try. God in His mercy and Divine Will gives me every favour from day one to the last day," she said.
"I am also grateful to God, my parents, friends, families and fellow contestants for their immense help and contribution towards my success story," she added.
The second season of Rising Stars Africa is set to be in 2017.
Read Other Articles In Article (Archive)