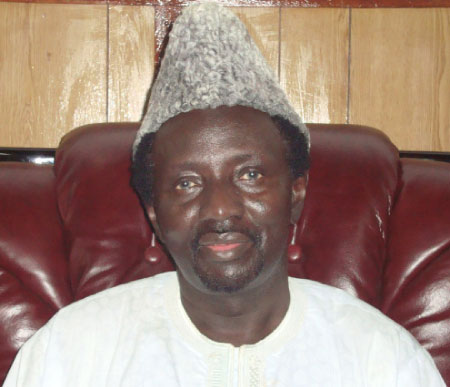 By the grace of Allah Almighty, the Amir, Baba F. Trawally and delegation have recently concluded 5-week countrywide tour. It started from November 2013 through January 2014.
During the tour, the learning of the Holy Qur'an was emphasized. Parents were advised to ensure that their children learn and study the Holy Qur'an because in it lies all blessings and happiness. The first revealed verse of the Holy Qur'an to the Holy Prophet Muhammad Mustafa (saw) states the importance of learning and the Holy Qur'an should take the precedence in all aspects of learning.
The elders were advised on the importance of practicing the teachings of the Holy Qur'an and the Sunnah of the Holy Prophet Muhammad Mustafa (saw). The training of the younger generation would only be successful if we the elders are role models. The youth were equally advised to have love and compassion for the elderly and assist them in particular and the society in general.
As the dress code is becoming an increasing problem and shameful in the society, advices were given to the youth (male and female) for decency in dressing and the observance of the Islamic code of dress. The traditional form of dressing in the country is essentially Islamic and therefore they are advised to maintain that instead of adopting indecent forms of dressing now being imported into the country.
The youth have also been advised to learn different skills in order to meaningfully contribute to the socio-economic development of the country. Obedience to parents and authorities, they were advised, should be their distinctive feature. Love for the country must be shown at all fronts and no one should be involved in subversive activities that will disturb the peace and stability of the country.
Traditional leaders, regional and local authorities, and religious leaders in the various communities visited were advised to establish justice and work in the interest of the country. The religious leaders should emphasize these teachings of the Holy Qur'an in their preaching and sermons. 
Prayers were requested and observed for continous peace, stability, security and prosperity of the Gambia. The Salam and prayers of His Holiness, Hadhrat Khalifatul Masih V (ATBA) Spiritual and Supreme Head of Worldwide Ahmadiyya Muslim Jama'at were also conveyed to the entire country.
May Allah Almighty always shower His benign favours and grace upon the entire people of our beloved and dear country, The Gambia and make us all among His Loved and favoured one and increase and enhance our moral and spiritual development. Ameen.
Wassalam
Yours Sincerely  
Baba F. Trawally
Amir
Read Other Articles In Article (Archive)