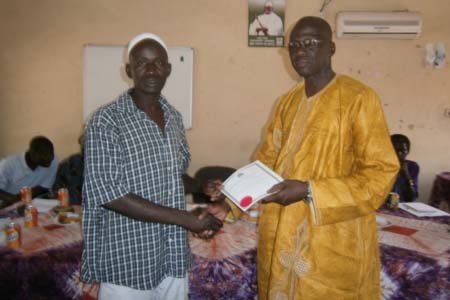 Agribusiness technical services unit under the department of agriculture, in collaboration with Radville Farm and Gambia Horticulture Enterprise Ltd, over the weekend handed over registration certificates to eight cooperative members across the country, at a ceremony held at AFET conference hall in Brikama.
The certificates were awarded to ensure the groups fulfill all the requirements for registration as cooperative societies and duly register.
The groups were awarded registration certificates after successfully attending sensitization training on mango growers in all the four districts in the Kombos, organised under the auspices of the Growth and Competitiveness Project.
Cherno Mballow, head of Agribusiness, said it followed series of successful training and his technical unit deemed it fitting to give certificates to the various groups, including the Kombo district mango growers' cooperative societies and certified seed growers' cooperatives.
Mr Mballow said the main objective of these activities was to facilitate the formation, development and promotion of cooperative societies based on the cooperative principles, practices and values.
He buttressed the importance attached to the sensitization and training, saying the groups were well nurtured, and believed with that knowledge agribusiness with its partners are confident that with the right support and an enabling environment these societies would meet the aspirations of their members and by extension contribute significantly towards the attainment of the national objectives of food security and poverty alleviation.
Sheriff Bojang, deputy permanent secretary at the Ministry of Agriculture, told the participants about the position of the government on empowering farmers to realize high production and productivity.
He spoke about the 2011 crop failure, saying government had pumped in more than D80 million to look for crop to enhance farmers to boost their production and productivity.
He therefore urged farmers to seriously work with the cooperative society as it is an association that could procure certified seed that would help in the production of mango processing.
Mamudou Keita, in his remarks, said cooperative society in general plays a role in the socio-economic development of any country.
He said supporting cooperative society, especially mango growers, would undoubtedly provide knowledge for them to maintain a sustainable life and reduce poverty in the country.
Gibriel William, representative of G.H.E, said the handing-over of registration to mango growers showed a great commitment and dedication towards the establishment of cooperative societies in their community.
He advised the mango growers to redouble their effort in the management of the cooperative societies and also challenged them to put the knowledge gained into good practices.
Read Other Articles In Article (Archive)