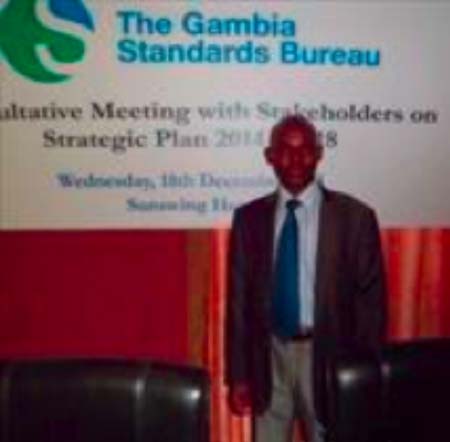 The Gambia Standards Bureau Wednesday organized a two-day training session on Laboratory Business Plan at the NaNA conference hall along Bertil Harding Highway.
The two-day exercise brings together participants working in laboratories in different institutions, and was aimed at better equipping laboratories in The Gambia on how to develop a comprehensive business plan.
This came after the training of six people on the laboratory business plan in Ghana, who will now conduct such train sessions in The Gambia, in order for labs to generate income and have sustainability.
Papa Secka, Director General of the Gambia Standards Bureau, said the bureau as an institution was mandated to assess all laboratories in The Gambia, to ensure standards in the laboratories and their sustainability.
Six members of the bureau received training in Ghana on the laboratory business plan for five days, and are now sharing the knowledge and skills with the participants from various labs in the country.
The training course in Ghana was funded by EDES, a European-funded programme mainly for food products to ensure and promote food safety, DG Secka added.
The Standards Bureau also coordinates the signing of MoUs between labs with EDES and with the bureau.
Some of the institutions involved are the Public Health Laboratory, NARI, Department of Fisheries, and National Metrology office, among others.
The Gambia Standards Bureau ensures that laboratories operate with proper standards in order to be able to compete in the international market, according to Secka.
Abdoulie Cham, a member of the Metrology Laboratory at the Gambia Standards Bureau, said he was trained in Ghana, and it was vital to share the knowledge with others in the laboratory business.
In his presentation, Biram Laity Fye, said a laboratory should run as a business entity, operating at an acceptable standard with an expectation of making a profit.
"A good business plan should provide a conducive environment for a laboratory to effectively operate, and be sustained and also to be able to meet the requirements of ILAC," he said.
The different types of labs that are operating are the chemical testing lab, microbiological lab testing, environment testing and calibration of equipment, among others.
During the presentations, it was said that all laboratories should work towards maintaining sustainability and also work for credibility in order to meet international standards.
It is very important for each and every laboratory to have their own budgets, and develop good practices and make sure they know their customers and develop a good business plan, a member of the Gambia Food Safety Quality Authority also stated.
Read Other Articles In Article (Archive)