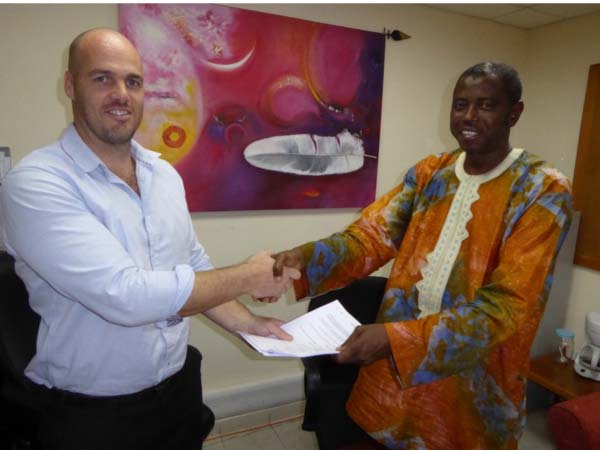 ActionAid International The Gambia on Tuesday 14 June signed a grant agreement with the British Embassy Banjul at the embassy's office in Fajara, witnessed by senior staff of ActionAid and the British embassy.
The purpose of the grant is to strengthen the capacity of the Local Government Authority to promote active community participation in local council development in Kuntaur Area Council.
The project will be coordinated by ActionAid for a period of nine months, starting in July 2015.
The Executive Director of ActionAid, Omar Badji, signed on behalf of ActionAid while the Embassy's chief of staff Gregor O'Gorman signed for the Embassy.
Under the project, community-based organisations, women and youth groups, smallholder farmer groups, councillors, council staff, LGAs (Chiefs, Alkalos, Ward Development Committees, Village Development Committees,) among others will be engaged through interface dialogue programmes, joint capacity development, sensitization and advocacy.
This is expected to result in a network which will work with people living in poverty in their fight against poverty in the council. It is also envisaged that the participants will be aware of their responsibilities to participate effectively in decision making processes and support local council development on issues affecting their lives and livelihoods.
A recent study carried out by UNDP Gambia and the Ministry of Finance and Economic Affairs revealed that Kuntaur is one of the most challenged area councils and, like other councils,is not implementing the 2002 Local Governance Act which aims to promote peoples' popular participation in local governance in a more transparent and accountable manner.
AAITG has been working with the Kuntaur LGA in capacity building, and this grant will build on the gains registered on these initiatives.
At the signing ceremony, ActionAid Executive Director Omar Badji expressed happiness at the grant funding agreement, and hoped that the partnership between the two institutions will enhance capacity building of the Kuntaur Area Council to better serve the community within the council.
"Capacity building of communities in governance must precede transfer of responsibilities if the desired results of decentralisation were to be attained", said Badji.
The British Embassy's chief of staff, Gregor O'Gorman, was also delighted with the partnership and looks forward to a successful project implementation.
Read Other Articles In Article (Archive)