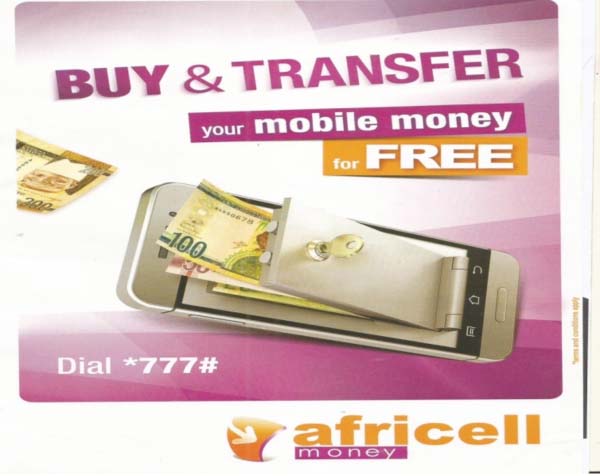 One of the leading GSM operators in The Gambia, Africell, yesterday launched a service called 'Africell money service' which allows subscribers to send and receive money through their mobile phone.
"This service helps Africell subscribers in The Gambia to send and receive money from their mobile phones for free," Ronald Senghore, implementation supervisor of the new service, said at the launching at Afri Radio in Kairaba Avenue.
He explained that the service is not only to ease sending and receiving of money but it also create job opportunities for unemployed youth as it give them the chance to earn themselves a living.
According Mr Senghore, with Africell money service, there is no need to worry when the banks closed as the service helps the subscribers to easily access and send money from different parts of the country without any charges.
He said for one to utilise the service, you should first have an Africell money account then through the account, you can send a minimum cash of D50 and maximum D5,000.
Africell is dealing with Trust Bank, Reliance Financial Services, Guaranty Trust Bank and Marimo Sales as their main agents for the mobile money service.
"But for any subscriber to benefit from the service, you have to register your Africell line at any Africell outlet or any of the above-mentioned financial institutions to activate your line to the service," Mr Senghore said."After registration, you need to activate the service directly on your phone and for that you need national documents like an ID card, residential permit or driver's license."
Omar Diallo, assistant manager of Africell, said the Africell money service "is a great opportunity for young people in The Gambia".
"The service will start as a new business for some young Gambians," he said."It will reduce the cost of transaction."
Jarnal Bensouda, operation manager of Africell, said such mobile money service has worked in so many countries and it is based on the successes registered in those countries that Africell also want to replicate in The Gambia.
"We want to engage more youth by providing them with activities to keep themselves employed," he said.
Read Other Articles In Article (Archive)