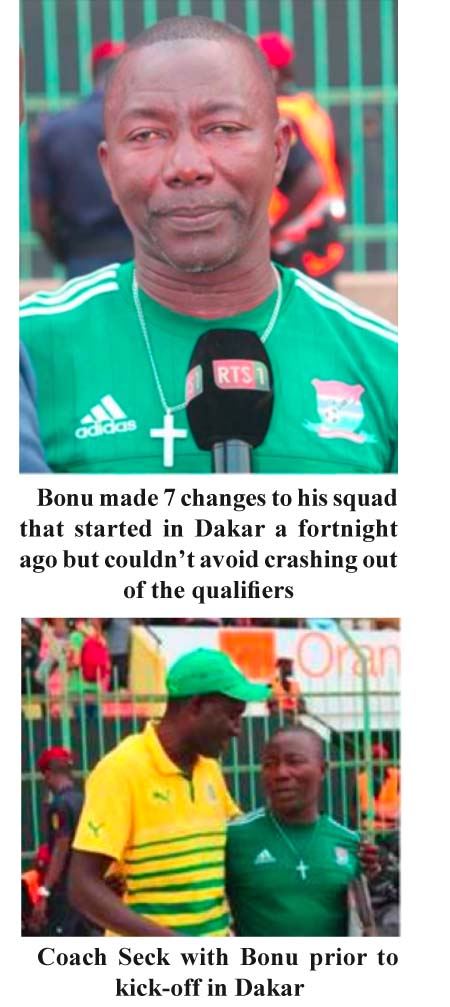 Peter Bonu Johnson, head coach of the Gambia home-based national team, has said he hoped Gambia's elimination from the CHAN qualifiers in the hands of Senegal will serve as a lesson not just to him but also to the Gambia Football Federation (GFF), to know that one cannot prepare a team for weeks or a month and expect that team to deliver results.
Bonu and his charges were eliminated from the qualifiers on a 4-1 aggregate after being beaten 1-nil in the second leg of the qualifiers in Banjul on Saturday by neighbours Senegal to end their hopes of making their first appearance of the championship proper in Rwanda 2016.
Speaking to reporters shortly after the defeat at the Independence Stadium, he said he has learnt a lot from being eliminated in the qualifiers, pointing out that the team didn't come together early. For any team to succeed there must be a long-term plan and preparation in place, he says.
A team cannot be prepared in weeks or a month, he stated, noting that the GFF needs to look at its programmes and restructure them in a way that "it will not affect any of our national teams".
He pointed out that the league concluded early, which has also affected the players because they lacked match fitness compared to Senegal, whose domestic league is still on going.
After the first leg in Senegal they (Senegal) had domestic league games the week after, while "we were sitting", he further pointed out, saying the out-of-competition for our players contributed to their poor show.
"We should start working now if we want to have proper teams that can compete internationally with other countries," he remarked, saying one cannot wait until the last minute of a competition before start putting up a team together.
"All our teams that made marks were built on long term planning and preparation before being registered for competitions, Bonu further stated, adding that the team didn't get that preparation or plan.
They wanted to start training in April when the league was on but couldn't because the league was being played both on weekends and mid-week, he went on, while further emphasizing that "if we want our teams to do well we must have long-term plans and preparations for them in place".
The players wanted to fight to overturn the result but the lack of match fitness and composure in front of goal affected them, he observed, saying if they had relaxed and capitalised on the chances they created, the outcome of the game could have been different.
His boys created better chances than their opponents and if they had scored one it would have boosted their confidence, he also said, adding: "The determination today was more than when we played in Senegal because the players had the belief that they can overturn the result." They fought hard but luck was not on their side, he concluded.
Goalkeeper and team skipper Christopher Allen, who conceded 4 goals in 2 games, said no player or goalkeeper would like to concede 4 goals in 2 games, adding that his wish was to have a clean sheet.
They played well but couldn't overturn the result as luck was not on their side looking at the number of chances they created, he added.
Senegal scored their only chance of the game but the concentration from the Gambian team in Banjul was far better than that in Senegal, he concluded.
Moustapha Seck, head coach of the Senegalese home-based national team, in his remarks, said they didn't come for victory alone but to also secure qualification to the next stage of the qualifiers.
The 3-1 win in Dakar was an advantage for them because in football anything can happen, he added, saying as a coach he believes in players who believe in themselves and also have character because "being afraid in football is not part of my vocabulary".
He stated that if they want to participate in the CHAN proper they must eliminate their next opponents.
Seck pointed out that they knew that for The Gambia to beat them the Scorpions must attack them and to attack they will open up space for his side to capitalize and score.
Augustine Ndiaye, team captain, for his part, began by thanking the Almighty for giving them a double victory over The Gambia in the two legs.
He described the Gambian team as a good and young team, but added that they are also a young side.
Read Other Articles In Article (Archive)