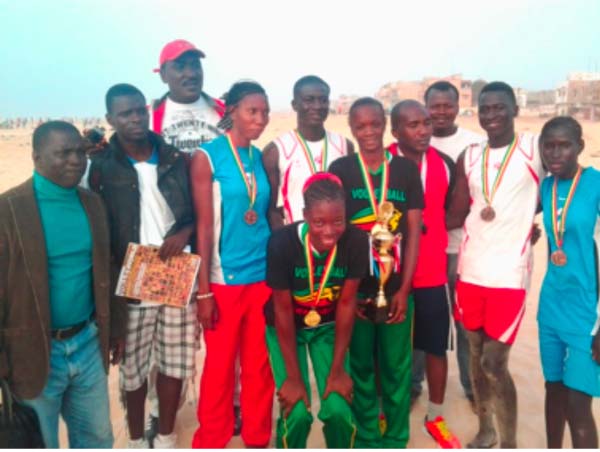 The Gambia Volleyball Federation (GVBF) has been confirmed as the vice champions in beach volleyball and indoor volleyball men events of Zone for the September AAG finals in Congo Brazzaville by volleyball governing body in Africa CAVB.
This follows GVBF's recent outstanding performances in both Olympic beach volleyball qualifications in Zone II and the just concluded All Africa Games indoor and beach volleyball qualifiers.
After Gambia being tied with 5 points with Senegal and Serra Leone, CAVB has applied its regulations which dictates that in case of tie between 3 countries, the pool ranking (position) is decided based on the rally points ratio.
According to CAVB ratio, Gambia are in 2nd place in the Men's beach volleyball.
As for the women event there were no ties in the points and Gambia is placed 3rd therefore unable to go through.
The results were confirmed by CAVB's director for beach volleyball, May Alla, who applauded the Gambia federation for the recent exploits in Zone II.
"I would like to add that we are so very proud of Gambia and the success that Beach Volleyball is witnessing in The Gambia," she said. "We believe that great progress and great statue for Gambia BVB Teams will be witnessed in future events."
The Gambia has now qualified to the All Africa Games and was ranked 2nd in both beach and indoor Men's Event.
As Gambia is a candidate for solidarity support through ANOCA, Dr Amr ELWANI – CAVB President, confirmed his support to Gambia as a candidate, particularly with the remarkable advancement that Gambian teams have demonstrated in Beach Volleyball this year.
Gambia was also able to prove its potential through strong performance at the 1st Round of the African Qualification towards the Rio Olympic Games.
The Qualifications took place in Senegal in January 2015, where Gambia was placed 1st in the Women's Event and 2nd in the Men's Event in its pool.
Read Other Articles In Article (Archive)