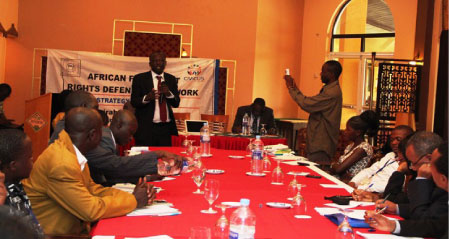 Conscience International Gambia Chapter, an international NGO based in The Gambia, in collaboration with CIVICUS World Alliance for citizen participation recently held a daylong strategy workshop for civil society actors from Africa during the 53rd Ordinary Session of the African Commission on Human and Peoples' Rights (ACHPR).
Held at the Kairaba Beach Hotel, the aim of the convergence, according to the organisers was to further consolidate the plan of action for the African Forefront Rights Defenders and build the capacity and skills of civil society organizations, to effectively use the African and International human rights system in their work towards human rights promotion and protection on the African continent.
"It also aims to strengthen the network which was created in Ouagadougou, Burkina Faso in July 2012, through engagements in discussions with civil society actors from other parts of the continent," said Mr. Shaka Ceesay, the Executive Director of CI.
He said the forum would also come up with actions to inform a post-workshop strategy for all participants, thus anticipate having a total number of 53 participants, including media personnel.
For his part, Mr. Clement Voule, Program Manager spoke at length on the importance of the forum, stressing the need for enabling environment for civil society organisations in Africa to better perform their duties as human rights defenders in their countries.
"We aim to introduce the African Commission on Human and People and the African human rights system to participate and explore the difficulties civil society actors encounter in promoting and protecting human rights in their respective countries; share experiences and encourage participants to incorporate human rights principles in their work; establish a stronger and continuous working  relationship between the African Commission and Civil Society Actors, as a nucleus for a continent-wide strategic partnership for promotion and protection of human rights in Africa, and to strengthen the African Forefront Rights Defenders Network," he emphasised.
Ms. Corlett Letlojane, one of the facilitators, dwelled on the importance of freedom of information, expression, association and assembly, which she noted, form the basic elements of the principles of democracy.
Gaye Sowe, senior legal officer at the institute for human rights elaborated on the need for networking, advocacy and strategies to engage the African commission and the UN mechanisms.
At the end of the convergence participants issued a statement with action points for governments to protect human rights defenders in Africa. The statement would be read by the CI (Observer Status) in one of the public sessions of the Ordinary Session of the African Commission and points read as following:
Develop social media tool that everybody can sign in and be directly managed by the African Commission
Media campaign on human rights issues e.g. disability rights
Commission to monitor and give support (financial and technical) to partner NGO and create mailing lists where all partners would share information.
Read Other Articles In Article (Archive)