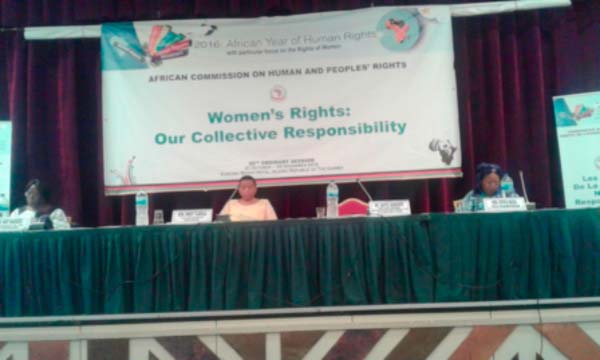 The 59th Ordinary Session of the African Commission and the 28th Ordinary Session of the African Children's Committee held under the theme: "Women's Rights our collective responsibility," ended on Friday at the Kairaba Beach Hotel.

In her closing statement, the Solicitor General of The Gambia, Saffie Sankareh, said issues on women's rights were discussed and deliberated on.
The occasion was an opportunity for individual state parties to look into their own records on the protection and promotion of women, with a critical eye and be proud of their achievement.
They also discussed various aspects on issues of women that need improvement, she added.
The number of state reports considered and the ensuing constructive dialogue exemplifies, not only the important role played by the Commission on issues affecting Africa's development, but they also reflected on the enthusiasm of all shareholders present in ensuring that women's rights are a reality enjoyed by all African women.
Mrs Sankareh further said that as the theme indicated, the protection and promotion of women's rights is a collective responsibility for all state and non-state actors.
"It is my hope that collectively the issues discussed and recommendations made during this session will be disseminated and made available to all, especially to women and girls, both in the urban and rural areas, to ensure effective and proper implementation as part of our duties to fulfill our obligations in the promotion and protection of the rights of all women, including our beloved Africa."
In her closing remarks, the chairperson of the African Commission on Human and Peoples' Rights (ACHPR), Hon. Pansy Tlakula, said in addition to the unprecedented simultaneous holding of the sessions of the two organs, the 59th ordinary session was a programme like any other in the Commission's long history, where it brought together survivors of human rights violations and giving voices to the hopeless and voiceless.
Hon. Pansy stated that during the session, the Commission convened a human rights dialogue to consider how best to strengthen AU institutions and their collaborating state and non-state actors, in order to improve the rate of compliance of states.
"The Commission also organised interactive sessions to discuss human rights situations of women in Africa."
The Commission presented the youths with opportunities to voice their views, and the first-ever youth panel held at this Commission session where the youths brought forward their various comments and made recommendations to address their concerns.
The AU had rightfully adopted the theme on the democratic dividend of investing in the youths for the year 2017.
She added that the 59th ordinary session, allowed all stakeholders to take stock of the progress made in the promotion and protection of human rights and the challenges.
They also considered the opportunities to be in force, and the coordination among various bodies to ensure promotion and protection of human and peoples' rights on the continent.
Read Other Articles In Article (Archive)