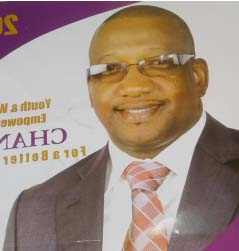 Presidential nominations start today with Mamma Kandeh, leader of the Gambia Democratic Congress (GDC), whilst Dr Isatou Touray, who was scheduled for nomination on Tuesday 8 November, has withdrawn from the race.

On Wednesday, 9 November, Adama Barrow, flagbearer of the coalition, will be nominated, and on Thursday is the turn of incumbent president Yahya Jammeh.
Mamma Kandeh is 51 years old, like President Jammeh and Adama Barrow. Kandeh was actually born on 12 July 1965.
Mamma Kandeh attended Crab Island School in Banjul and Gambia Technical Training Institute (GTTI) in Jeshwang KMC.
He is married with three wives after divorcing one.
He was elected in 2007 as Member of Parliament for the ruling party APRC for Jimira constituency, when he defeated Adama
Barrow of UDP by 4067 to 2,835 votes. Now Barrow is the flag bearer of the coalition.
Mamma Kandeh was expelled from the APRC on 3 April 2013.
On 11 May 2016 he formed his party, the Gambia Democratic Congress (GDC), and to date he has refused to join the coalition.
Efforts were made by this paper to obtain his full profile, but to no avail. Even though many attempts were made by The Point to reach him, up to the time of going to press, none of his top aides could provide us with Kandeh's profile.
Nomination criteria for presidency
According to the IEC, nomination criteria for presidential aspirant in The Gambia states that: a candidate shall be a citizen of The Gambia; he or she must have attained a minimum age of 30 years, but not more than 65 years; must have completed senior secondary school; should be ordinarily resident in The Gambia for the five years immediately preceding election; and must be nominated by not less than 5000 voters with at least 200 voters drawn from each Administrative Area.
The criteria also includes a sworn declaration of assets; tax clearance certificate; payment of a deposit of D500,000; and having a representative symbol, colour and photograph of the candidate.
Furthermore, according to the criteria, a person who is qualified to be registered as a voter under the Constitution and the Elections Act may contest as an Independent candidate in any election; and a candidate shall abide by the code on election campaign ethics, which the commission prepares from time to time.
The candidate must also submit a manifesto encouraging the spirit of tolerance and multiculturalism; and a detailed and comprehensive campaign itinerary.
The criteria also states that a deposit paid in accordance with section 43 shall be returned to the candidate if: his or her nomination paper is rejected; he or she withdraws his or her nomination in accordance with the provisions of the Act; and that there is no contested election, or in a contested election in relation to the election of a president, he or she obtains not less than forty per cent of the votes cast for the elected candidate. In other words, if a candidate does not obtain 40 per cent of the votes of the elected president, he or she would lose the deposit of D500,000.
Read Other Articles In Article (Archive)