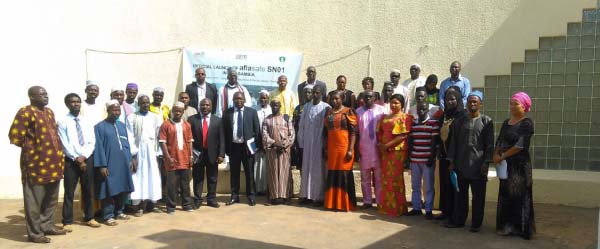 The Food Security and Quality Authority (FSQA) in collaboration with the International Institute of Tropical Agriculture (IITA) over the weekend launched the Aflasafe SN01 in The Gambia, at a ceremony held at the Ocean Bay Hotel in Cape Point, Bakau.

Aflasafe SN01 is a bio-control product that reduces the contamination of aflatoxins in groundnut and maize.
Aflatoxin is a poison produced by the soil-inhabiting fungus Aspergillus flavus that infects crops in the field, leading to post harvest losses, common in human food and animal feed.
Aflatoxin can occur throughout the food value chain, compromising food security, health and trade.
Speaking at the launching ceremony, Abdou Konlambigue, managing director of Aflasafe Technology Transfer and Commercialization Programme at the International Institute of Tropical Agriculture (IITA), said aflatoxin is not a Gambian problem alone.
"Aflatoxin causes an estimated 5-30 per cent of liver cancer worldwide, the highest incidence being in Africa (30%)".
He congratulated The Gambia for taking the lead in addressing the public health and competitiveness challenges created by aflatoxins.
He added that The Gambia has recently developed and validated the National Aflatoxin Control and Investment Plan (NACAIP), and with the support of the partnership for Aflatoxins Control in Africa would like to contribute to achieving the objectives of this plan.
IITA is a not-for-profit institution that generates agricultural innovations to meet Africa's most pressing challenges of hunger, malnutrition, poverty, and natural resource degradation.
Mr Konlambigue added that they worked with various partners across sub-Saharan Africa.
"We improve livelihoods, enhance food and nutrition security, increase employment, and preserve natural resource integrity".
"This 5-year project is slated to be used in 500,000 ha in 11 countries where aflasafe is already a nationally registered product or is likely to be registered soon."
They are Burkina Faso, The Gambia, Ghana, Kenya, Malawi, Mozambique, Nigeria, Senegal, Tanzania, Uganda and Zambia.
The goal is to contribute to improving food safety and increasing the income of smallholder maize and groundnut farmers, through the use of aflasafe.
Sait Drammeh PS ministry of Agriculture in Banjul said the aflatoxin challenge continues to have a negative impact on Gambia's groundnut export, to a point that they are no longer able to export high-value aflatoxin-safe edible groundnuts to international markets that offer premium prices.
Mr Drammeh added that the launch of Aflasafe SN01 comes at a time when The Gambia is ready to address the issue of aflatoxin as a whole.
"We want our farmers to benefit from the effects of reducing aflatoxin on groundnuts, resulting in the opening of the international market to our exports."
The government looks forward to working closely with the IITA, FSPMC, PACA, FSQA and other stakeholders to achieve the desired outcomes in the fight against aflatoxin, Drammeh added.
Read Other Articles In Article (Archive)