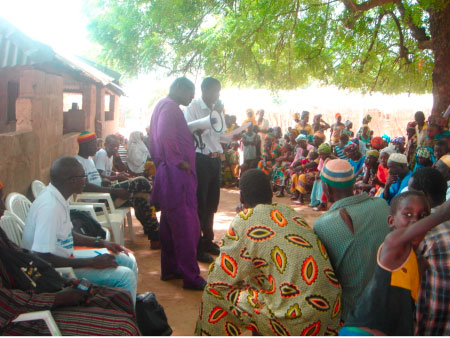 The National President of Beakanyang Kafoo has said that massive tree planting is key to climate change mitigation.
Mr Tumani Danjo was speaking recently on the 2nd leg of their community sensitization meetings in Draman village in Wuli West district of URR.
According to him, his organization is bent on helping communities in the district to plant at least 5,000 trees this rainy season.
Mr Danjo told the gathering the devastating impact of climate change on the country could be drastically mitigated if all Gambians and non-Gambians resident in the country are fully committed to planting more trees each year.
He said that involving local communities in the climate change mitigation is essential for sustaining the successes registered in the campaign.
For his part, Nfamara Jawneh, project coordinator of Beakanyang, said the next generation faces a severe future if no serious measures are taken to stem the effects of climate change.
He explained that the importance of planting trees in the environment cannot be over-emphasized.
He added: "Humans and trees need each other for survival; as human beings we need oxygen, which is the waste product of trees, while trees need carbon dioxide, which is also waste from human being, for survival."
He lamented the problems of flooding, droughts, rainstorm and rise in sea level, rainfall pattern resulting in poor harvest as some of the effects of climate change.
Mr Jawneh urged the people in the district to join Beakanyang, the government and the Global Environment Facility in their determination to build and create a cleaner and safer environment for all.
He applauded the high level of interest in climate change mitigation within the pilot project intervention communities.
He said the impacts of climate change are now visible all over the world and that scientific evidence had confirmed that African continent would be worst hit.
Mr Jawneh said the immediate and long-term impacts of climate change are threatening social and economic progress of the country, adding that such impacts are already being felt in a number of real and recognizable ways in the country.
"Climate change is now affecting agriculture, the wildlife, ecosystem, and there is sea level rise around Banjul," he said.
Read Other Articles In Article (Archive)