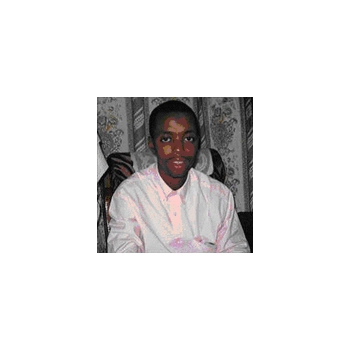 The president of the Federation of The Gambia Muslim Students Organisation (FEGAMSO), brother Mustapha Barry, has condemned strongly Israel's war on Gaza.
Speaking in an exclusive interview with the Youth Forum yesterday the fegamso leader described the war in Gaza as unjustifiable. "Its disheartening that the countries of the civilised world behaving in this manner". I believe no civilised nation would allow civilians died unjustly," says Barry. He stressed that every civilised nation should respect human life stressing that Israel has taken herself out of the civilised world because they can't justify the mass killings of civilians in Gaza. He argued that all that they are saying is that they are doing it for self-defence.
"I wonder who are they defending themselves against, is it the 6 month old baby, Red Crescent officials, UN Aid workers or an old woman struggling to take care of her children because most of the victims are these people. He said that if you look at the position of the world leaders, the UN, Arab League you will see they have done virtually nothing. Stressing that they have not come with unique statement to condemn the action in Gaza much more to take concrete action in helping civilians in Gaza.
If you talk of the UN after hundreds of killings they are still calling member states to discuss the war on Gaza. Even though they managed to come up with a resolution they cannot let the parties abide by this or stop the war. They cannot let Israel come to its senses and stop the bombing and massacre of civilians. This shows that the resolution is useless as far as the war is concerned.
He said that there are not only Muslims in Palestine but there exists some Jews and Christians also. Therefore the whole world should take a firm decision on the issue and they should stop the double standards, these so-called powerful nations. If Israel is saying that there people are living in fear of rockets launched by Palestinians they forget to realise that Palestinians have been living in fear every since they occupied their lands. They are not only living in fear but are suffering mentally and financially because of the siege. Israel says that they didn't recognise them I wonder if Hamas also recognise them. Hamas was duly elected by the Palestinian people and they did not accept that and they want Hamas to recognise them. They occupied their lands the lands of the Palestinian people and asked the people to sit down and accept that, there is no justice to their claims.
I believe every human being has a role to play in helping the Palestinian people. The least we can do is to voice our concern and that is to stand in solidarity with the people of Palestine. We have so many people offering help, doctors going to Gaza from Egypt despite the bombings. We have seen Iran sending humanitarian aid and yet getting these donations to Gaza is a problem. Well for Gambians we can also offer our assistance. Despite the fact we cannot go there physically due to the lack of required resources our organisation is able to work out a modality and people in The Gambia who are willing to give assistance to their brothers and sisters in Palestine can do so through us. I believe that Israel and Palestine have many agreements which if followed can bring lasting solutions to the crisis. For instance in 1967 they signed an agreement in which it says that Israel should respect borders and resume the sageand Palestine should also stop launching rockets into Israel. Israel should also stop occupying the lands of Palestinians.
I believe if this agreement is implemented to the letter it will bring lasting solutions. It is very simple. Israel is a powerful country they are forcing Palestinians to launch rockets because of the siege. If this is removed then Palestinians will be free and so there is no reason to retaliate. The Arab world should take a firm stand because they have the means to stop Israel from killing their brothers.
Life counts a lot and he says he cannot sit down and keep quiet seeing his fellow students, brothers and sisters dying unjustly. Humanity also counts a lot and we have a responsibility as Muslims because the Quaran told us that all believers are brothers despite the distance. I believe they are our brothers and sisters. If fire in the house I will feel the heat. This is why I am raising our concerns. I call on the UN, the Arab League and African leaders to d every ting humanly possible to end this war sooner rather than later. All Muslims, particularly those in The Gambia, should help alleviate the suffering of their brothers and sisters in Palestine. The world is also looking to the new president Barrack Obama to live up to his promise by ending the conflict. I believe if they use all the chance that they have then this war can come to an end as quickly as possible. We are looking forward to his stand because his predecessor George W Bush has failed the Palestinian people despite several attempts to showcase their role in the conflict resolution. I also call on the Muslims in The Gambia and their Christian counterparts to offer special prayers. Remember them in your late night prayers. Meanwhile those who wish to render any assistance to the victims can contact 9994722 or e-mail fegamso@hotmail.com. We assure you that it will reach them and the reward will reach you in the hereafter.
Read Other Articles In Article (Archive)