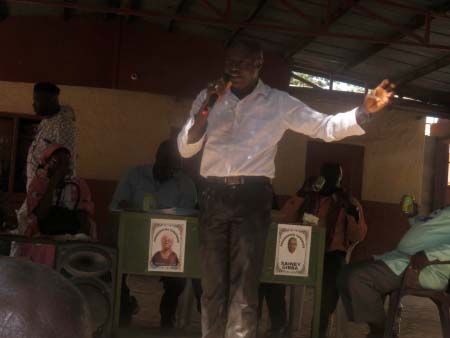 The outgoing secretary general of the Association of Early Child Educators –AECE- Sainey Gibba, Saturday delivered a report of the activities of the association from 2010-2019.

According to the report, one hundred and fifty teachers have benefited from the AECE in partnership with MOBSE scholarship package from 2010-2019.
Mr Gibba said through the support of the MOBSE, the association of early childhood educators (AECE) in 2015-2016, had benefited from the support of global partners in education (GPE) which sub vented a hundred thousand dalasi.
"The support was meant for the implementation of some of the activities that could not be carried out due to funding.' He said, the funds were used for monitoring, assessment and regional cuscuses.
He also announced that AECE has a permanent seat at the coordinating committee meeting (CCM) which is organise by MOBSE every two months, adding that, the executive committee has also mediated many disputes between schools, sponsors or communities and has been very successful in such mediations.
Gibba said, in April 2017, some officials from GPE visited The Gambia and met two executive members of the association; Myself and Mr. Emanuel Omorodion JP. The meeting was centred on the hundred thousand dalasis which was sub vented to the association. A breakdown of the expenditure of the money in question was carried out, he added.
However, he said the association had received complaints from some ECD facilitators that the certificates awarded to them by the Gambia College after their course were not recognised by MOBSE. "The matter was taken up and after a long struggle with the MOBSE and the Gambia college officials, the matter was settled."
Treasurer of the association who was supposed to give the financial report of the AECE told its members that, she has all copies of the financial records of the association but would not give a report of an unapproved account hence; the auditor had refused to audit the report.
"I have made efforts to write the report, but I could not have anyone to approve that I am right.' She said it would not be possible to give out the financial report hence the auditor had not showed up to audit her. 'This is not my money, it's ours and money is very complicated," she told members.
Finally, the association had also paid tributes to the departed souls of the association who had lost their life within the period under review.
Association of early childhood educators is an association, which was established in 1992 to support the development of early childhood education.
Read Other Articles In Article (Archive)