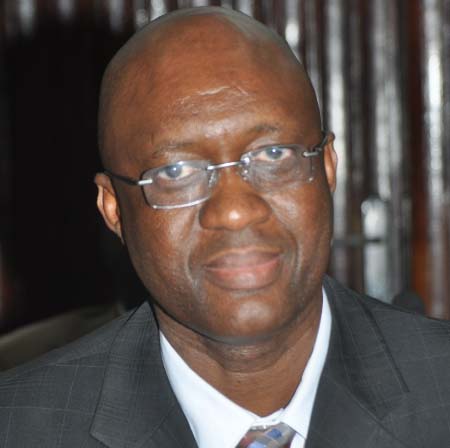 The Commissioner General of the Gambia Revenue Authority (GRA), Yankuba Darboe, has commended the African Development Bank (ADB) for its unflinching support to the development programmes of the Government of The Gambia under the leadership of President Yahya Jammeh.
The GRA commissioner general registered his commendation for the Bank during the launching of a US$3million ADB-funded project to finance the institutional support for economic and financial governance phase III, held at the Kairaba Beach Hotel on Wednesday.
It was revealed that GRA had the bigger share of the package of the project to implement.
CG Darboe also commended the Ministry of Finance and Economic Affairs for ensuring that his institution, the GRA, gets the bigger share of the fund allocated for the implementation of the third phase of the institutional support for economic and financial governance.
GRA is grateful to the ADB for the support, he said
According to the GRA commissioner general, the project would sponsor the upgrading of the ASYUDA plus-plus that the Customs and Excise service is using, which is geared towards generating more revenue for the country.
He described the move as a step in the right direction, adding that the GRA would live up to expectations in the implementation of the project.
He explained that having such a project was a great opportunity for the country, as revenue mobilisation is top of the agenda.
The upgrading of the ASYUDA plus-plus, which is a weight-based system, would generate more revenue for the country, he noted.
"We have been trying over the years to get the funding for the upgrading of the ASYUDA plus-plus, which many countries have moved over to now, a system which once it is established can generate more revenue," he said.
The phase III project would start in January 2016, and would last for one or two years to be completed, he added.
According to him, GRA is an institution that collects revenue on behalf of the government, and has now become a household name in the country.
GRA had been engaging in sensitisation activities about what VAT is all about and other related domestic taxes, its importance and benefits to the development of the country, the GRA commissioner general said.
Mr Darboe added that tax collection is a collective effort to ensure that the needed revenue for national development is collected.
He urged people to pay their dues, as the monies collected in the form of tax are ploughed back to the community in the form of development projects.
Read Other Articles In Article (Archive)