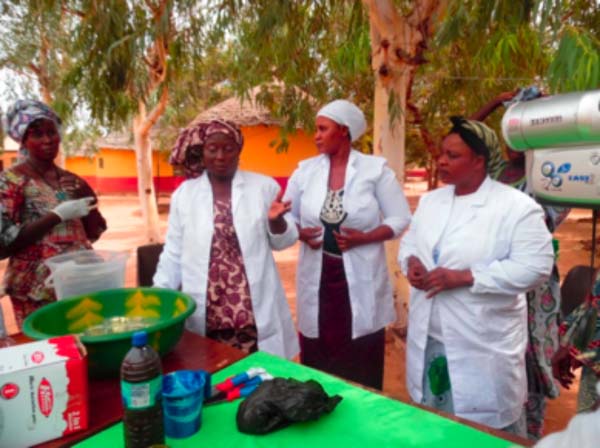 ActionAid is supporting Njagen women on food processing so that pepper from their farm produce would not result in losses for them when the market price is not favourable, said Mamadou Wuri Jallow, programme specialist on food rights for ActionAid The Gambia
Mr Jallow was speaking at a capacity building training programme on food processing funded by ActionAid The Gambia held at Ngagen village in CRR.
He said ActionAid has been deeply concerned about the constraints of women farmers, and recently signed a partnership arrangement with various women farmer groups, especially the Njawara women farmers' group, to boost groundnut production in the farming communities.
ActionAid was involved in education, health, but has decided to target agriculture to improve food security, according to Jallow.
They formed a partnership with the farmers' platform years back, which was an achievement for various farmer organizations to gain support through the platform.
Alagie Basse Mboge, president of the Farmers' Platform, speaking on the occasion said the platform has been getting support from ActionAid through the farmer-based organizations.
ActionAid has been sensitizing farmers on how to protect the forest from deforestation, he added.
"We also realize that we can make good use of the forest products by training women farmers on how to process honey baobab, the local diet, into food items," he said.
ActionAid would also empower the women farmers through sensitization and advocacy on the President's slogan: "Grow what you eat and eat what you grow", so the women farmers would utilize the forest products to attain the 2016 agenda, Jallow went on.
The farmers should not only focus on rice and vegetables, he continued.
Bakoto Jobe Mboge, managing director of the Women's Vegetable Fruit and Food Processing Centre, in her remarks said the national farmers' platform is supporting women processors and LHDP to set up the centre.
The multi-purpose processing centre, well-equipped with processing equipment, is training women on how to process forest products and other food items, she announced.
"The multi-purpose center is training and have employed about 20 girls who are working us," she further stated.
The Farmers' Platform was giving them full support at the processing centre, she also said.
The Senegalese farmers usually come to The Gambia to buy the baobab fruit to produce a soft drink, she added.
"The Farmers' Platform has now trained us on how to process the baobab juice, and we are now selling it in the market," she said. They also preserve pepper and process wonjo fruit into jam.
"If women farmers are empowered, we will be helped to achieve the Vision 2016 agenda," she said.
"I employed young women and girls, and those who have been divorced, just to empower women."
Read Other Articles In Article (Archive)