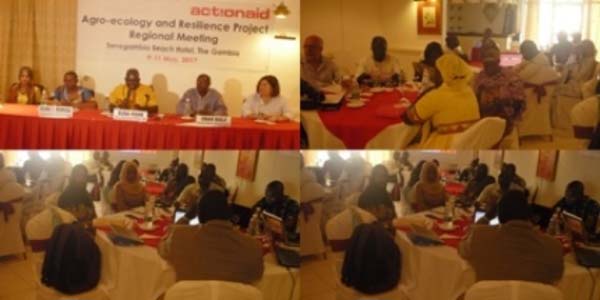 Actionaid International-The Gambia, Actionaid Senegal, Actionaid USA and Actionaid International Secretariat will conclude a three-day regional meeting on agro-ecology and resilience today, 11 May 2017.

The meeting, aimed at sharing experiences on the work around agro-ecology and resilience in The Gambia and Senegal, was held at the Senegambia Beach Hotel.
Buba Khan, Africa Advocacy Officer at AAI, said Actionaid promotes climate resilience, sustainable agriculture and would help by giving opportunies to women, smallholder farmers and the farming community in general.
He said the meeting would help them learn from each other and also learn from the challenges they face in the project.
Omar Badjie, Actionaid International-The Gambia Executive Director, , said the meeting was meant to bring them together to highlight achievements, successes and challenges but also listen to other stakeholders that are doing similar work.
He encouraged active participation from everyone as agro-ecology is a very complex area and they need a very strong approach.
Mr Badjie thanked Actionaid USA, Senegal, The Gambia andActionaid International as well as donors, partners and communities. He added that with the new government they have an opportunity as a civil society to rise to the opportunity.
"We have the democratic space and freedom of speech; everything we need as a civil society, to function effectively. We should seize that opportunity," he said.
Ifeoma C. Monwuba, Country Director Actionaid Senegal, said the project looks at three different objectives; disaster risk reduction, climate resilience and agriculture as well as documentation.
She said in the Sahel region you would now expect a maximum of 3 to 4 months of rainfall, thereby taking away people's livelihoods and putting them in a vulnerable state.
"As such, it is important that the project looks at how they prepare communities ahead of these incidents by working with government to help them," she concluded.
Read Other Articles In Article (Archive)