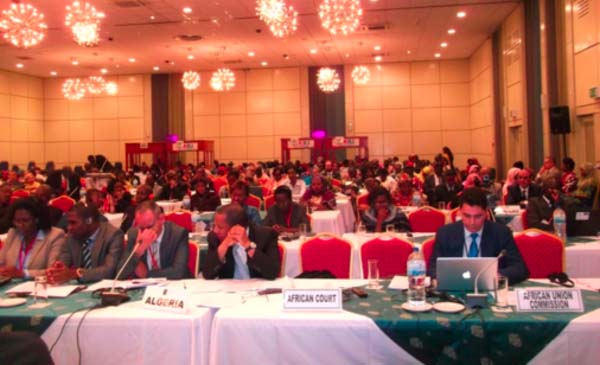 The 56th ordinary session of the African Commission on Human and Peoples' Rights (ACHPR) commenced yesterday at the Kairaba Beach Hotel.
The session, which would run until May 7, is currently engaging members of the African continent to discuss the current human rights and democracy challenges in Africa, as well as review the corresponding strategies to address the identified challenges.
Speaking at the forum, the chairperson of the African Commission on Human and Peoples' Rights, Kayitesi Zainabo Sylvie, commended the Gambia government for hosting the session.
She said despite efforts marshalled from within the African Union (AU), regional bodies and international community, conflicts and reprisals continue to persist in many parts of Africa including the Central African Republic, the Republics of Somalia and South Sudan.
Nigeria, Somalia and Kenya have continued to battle with terrorism within their borders, while Egypt and Libya also have been plagued with persistent political and economic instability since 2011, and in all these situations it is the masses of the people who bear the brunt of the impact, she added.
Kayitesi Zainabo Sylvie further stated that the African Charter enshrines and upholds the rights of people to freely choose their own government, adding that the position of the AU on unconstitutional changes of government "is clear and should not be tolerated".
Ms Sylvie also said the Commission in a recent press release on the matter, condemned in the strongest terms the 30th December 2014 attack on Gambian soil.
"We must continue to send a sound and consistent massage to the perpetrators, sponsors, supporters and sympathizers of such destabilizing forces whose objective is to derail the democratic and legitimate governments in place," she said, adding that the African Union and the African Charter recognize regime change only by the will of the people via the ballot box and not through the barrel of a gun.
She said the abolition of the death penalty at least in practice appears to be a trend that is spreading around the globe, adding that the Commission had taken a clear position against the death penalty and "is working together with all stakeholders to ensure that Africa becomes death penalty-free".
Dr Khabele Matlosa, director of political affairs at the African Union Commission, told the session that the African continent has witnessed decades of numerous human rights challenges resulting from a diverse range of factors, such as war, corruption, poverty, and autocratic governance.
These, Dr Matlosa said, are against the background that the AU member states solemnly resolved to promote and safeguard freedom, justice, equality and human dignity in Africa by putting in place instruments to enforce these values.
Dr Janet Banda, solicitor general and secretary for justice, leader of delegation for Malawi, said Malawi has made huge strides in relation to specific rights and freedoms, such as the rights of persons with disabilities, rights of women, freedom of expression, and freedom of assembly and demonstration.
Read Other Articles In Article (Archive)