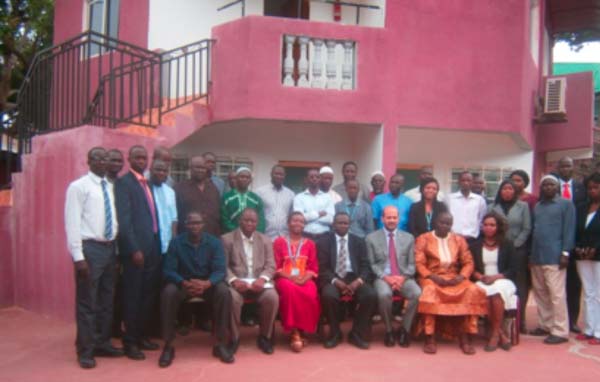 Bakary K.S. Sanyang, officer in charge, who doubles as the head of Planning Service Unit (PSU) at the Department of Agriculture, has said that accessing reliable data on agriculture production, marketing and trade "presents a major challenge" in developing and monitoring appropriate policy interventions in most countries in Sub-Saharan African.
The unavailability of data on the sector means that policy interventions aimed at improving levels of food security and agriculture-based development "are poorly understood and that policy is generally based on perception rather than evidence", he said.
Mr Sanyang made this statement while delivering the welcome remarks at the launching of the Farmer Digitalised Farm Registry (FDFR) project held recently at the Baobab Hotel.
He indicated that agricultural statistics have been critical information for the citizens in their reasonable decision-making process.
He added that national agricultural statistics are critical resources for public policy analysis and design, policy implementation and monitoring, and decision-making.
According to him, national statistical systems and data are in a "sorry state" in many African countries; "the systems are weak, uncoordinated, poorly resourced, and essentially unsustainable".
Moreover, he added, their outputs "are wanting" in terms of quantity, quality and dissemination.
"They are important indicators for the country and individuals as they support rational decision-making in economic activities," said the PSU coordinator.
He said recognising that data quality and the system as a whole is driven by demand, and that demand would be driven by the awareness of its value by decision-makers, it was vitally important to demonstrate the value of improved collection and use of data to policymakers.
"The overall goal of the Sector Development Strategy for Statistics (SDSS) in The Gambia is to have a robust agricultural information system with close to zero margins for error, that can contribute significantly to better informed policymaking decisions," he stated.
This would contribute to improve food and nutrition security, poverty reduction and overall economic growth, said Mr Sanyang, adding that the strategy aims at housing the best agricultural data generating and producing system in the sub-region, and serve as a model in Africa by 2019.
He said the main objective is that by the end of the pilot phase they would have covered the entire country, which would mean the entire digitalization of farmers and the farming communities.
Mr RAFIK, a representative from the African Development Bank and head of information highway technology, said the overall objective of the African Information Highway is to significantly increase public access to official and other statistics across Africa, while at the same time support African countries to improve data collection, management and dissemination.
He indicated that access to digital maps would enable easy location of farms and their produce and would further enable on-time intervention in case of emergency.
He disclosed that the bank through the FDFR project would deliver the necessary technical and material assistance to the new system, as well as to provide the relevant training for its use and maintenance.
Read Other Articles In Article (Archive)