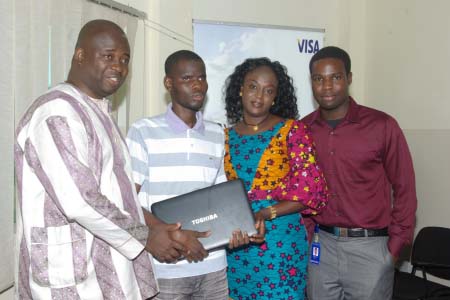 The pacesetting bank in The Gambia has continued its corporate social responsibility drive by donating a brand new Toshiba laptop to a visually impaired student of the Management Develop Institute (MDI).
On Friday 23 August 2013, the laptop was handed over to the student, Alagie Fofana, at the head office of Access Bank Gambia Limited on Kairaba Avenue.
In presenting the laptop to Alagie, a final-year student studying Peace and Conflict Resolution at the MDI, Access Bank Country Operations Officer Babajida Ijimakinwa said giving a laptop to the student is one way Access Bank could render help to society and the human resource of The Gambia.
"It is Access Bank's tradition to help and partner with organizations and individuals," Mr Ijimakinwa said, adding that few months ago they donated some bikes to some people in the communities.
"Last year we graduated about nine students; we took them right through from the grassroots level," the country operations officer said, in response to appeal for the bank to further support the education of Alagie.
"We would look at it and see whether we could be of help to him after proper consideration by management," said Mr Ijimakinwa, who encouraged Alagie to continue to excel in his studies.
In response, Alagie, who was born visually impaired, said: "This laptop will help me greatly in my studies."
He thanked Access Bank profoundly for the gesture, saying that whilst getting good books has become difficult nowadays, and teaching and learning technology is advancing by the day, with notes presented to them in software ( and flash drive), the laptop will enable him to listen and understand his notes very well.
"I intend to further my studies and if I have the assistance I would like to go up to university level," said Alagie, who lives in Tallinding with his parents.
Alagie was accompanied by Mr Alex Dacosta, his personal friend and mentor who advised him to seek assistance from Access Bank.
The presentation ceremony, moderated by Access Bank's Head of E-Banking, Austin Jones, was attended by Fatou Taaland other senior staff of the bank.
Read Other Articles In Article (Archive)