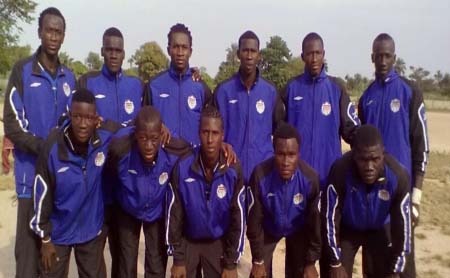 Steve Biko on Saturday beat Sunderland 1-0 to claim the 2013 Gunjur League title in a tightly-contested final played at the town's biggest football arena, the Gunjur Nyamina Football Field, after four years of trophy drought.
Steve Biko, who did lose two consecutive league finals to Gamcel and World Eleven in 2011 and 2012 respectively, came into the game with the objective of snatching a win to secure a victory after four years without a trophy.
Sunderland, on the other hand, came for revenge after losing to Steve Biko 1-0 in the group stage, which resulted into their early exit from the Gunjur summer biggest fray competition last season.
The game attracted thousands of spectators from Gunjur and its environs. Sunderland made a flying start to the game and left-back Karamo Janneh could have opened the scores for Sunderland in the 2nd minute of the game from a penalty spot but he blasted the penalty away.
Moment later Steve Biko dominated ball possession and came very close to scoring on numerous occasions.
Steve Biko opened the scores through striker Mbemba Manneh Chris in the 7th minute of the game from a stunning header to give his side the lead, which eventually proved to be the winner for the giant killers after four years of trophy drought.
Sunderland responded back quickly and created few goal-scoring opportunities but could not break through Steve Biko's formidable defence, thus the game ended 1-0 in favour of Steve Biko.
Sunderland finished the game with nine men after substitute Dembo Bojang alias Medez and centre back Ebrima Janneh alias Saul Cambel were both sent off in the dying minute of the game for unsporting behaviour.
As champions, Steve Biko went home with a giant trophy and a cash prize of D15,000, whilst Sunderland received D10,000 as the runners-up.
QCell FC received a trophy and a cash prize of D500 as the most disciplined team, sponsored by Deputy Director of Youth and Sports Pa Suwareh Faye.
Mustapha Darboe of Sunderland received a trophy as the youngest player of the Nawettan, whilst Mbemba Manneh of Steve Biko received a trophy as the leading goal-scorer of the tournament after notching five goals in six games for the giant killers in their journey to the league glory after four years of trophy drought.
Read Other Articles In Article (Archive)