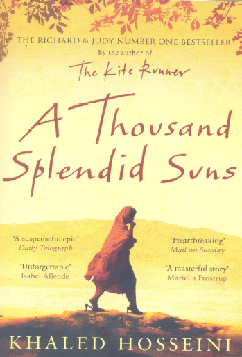 Author: Khaied Hosseini
Publisher and Date of Publication: Bloomsbury Publishing Plc; 2007
Paperback; 370 pages
Nana is a house help who gets impregnated by her boss Jalih Khan. To cover up the resultant scandal and protect his social standing in the Afghan society, he takes Nana and her baby Mariam to the outskirts of Herat where he builds a shack for them to live in. He occasionally visits them and sends them gifts. During such visits, he dotes on Mariam who mistakenly takes her father as the sweetest person in the world.
Against hr mother's pleading, Mariam leaves for Herat in search of her father. It is then she is given the shock of life. When she knocks on her father's gate, she is told that he is not at home so much so that sne has to spend the night outside in the cold. She returns home to find her mother dead from suicide.
After this, she is reluctantly accepted into her father's family, where is married off to Rasheed, a bitter old man, three decades her senior. She is abused and despised by Rasheed as she is not able to give birth to a child of her own. One miscarriage after another embittered him more and more.
It is at this point that Laila, a promising daughter of a middle-class family, who has lost her family in the Afghan crisis, is brought into this already tense famiiy. Rasneed pampers Laila, making her ted as f she were the most important person in the world. But the moment she gives birth to a girl, his attitude changes. Years later when she gives birth to a boy, Rasheed was over the moon, even rawning on the boy.
Though Maram and Laia are both initially antagonistic to each other, Rasheed's highhandedness provides a rallying point for them. They both come to see themselves as victims. So they plot to escape to Pakistan where they can live a better life. But at the bus stop, a young Afghan man betrays them. They are eventualiy taken back to Rasheed. Incensed by their action, Rasheed becomes even more brutal in his dealings with them.
When Laila's childhood sweetheart Tanq returns, Rasheed feels threatened and takes it out on Laila. It is during one of his beatings of Laila that Mariam kills hm with a shovel.
Stoically, Mariam gives herself over to the authorities and lets Lala with her two children and Tariq ran away to Pakistan. She is tried, sentenced and then executed publicly.
After a regime change, Laila and her family returned to Afghanistan. But on their way, they stopped in Herat to visit Mariam's family. She meets with Hamza, the son of Mariam's former Islamic teacher. It is from him she receives Mariam' s inheritance from her father. The inheritance consists of some US dollars and a letter apologizing for the wrong he has done to Mariam.
The novel depicts the plight of women in Afghanistan through the successive regime changes in that troubled country.
It is available at TIMOOKTOO Bookshop. Tel: 4494345
Read Other Articles In Article (Archive)