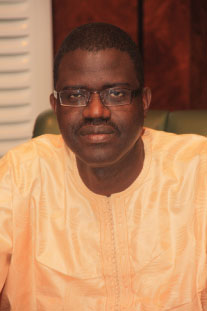 Former Secretary General and Head of the Civil Service Dr Njogu l Bah yesterday told the court that he wrote a letter, which is exhibit E in court, following a directive given to him.
Dr Njogu Bah was responding to questions under cross-examination in the criminal trial involving him, Lamin AMS Jobarteh, the former Justice Minister and Pa Harry Jammeh, the former Solicitor General, at the Special Criminal Court in Banjul before Justice Emmanuel Nkea.
The three are being tried under a three-count charge, which included conspiracy to carry out a lawful purpose by an unlawful means, giving false information to a public officer, and abuse of office, charges they denied.
Under cross-examination by defence counsel BS Touray, the former Secretary General told the court that he could remember receiving a complaint from the 1st accused person, Jobarteh.
He said he could also remember talking to the 2nd accused person, Pa Harry Jammeh, and advising him that they are one family and should work together.
"Yes, I have spoken to the 2nd accused," Njogu Bah said.
It was put to him that the 2nd accused said he had never attended a meeting at State House, and Dr. Bah answered by referring the court to exhibit B.
Asked whether he could give the genesis of how executive directives are given, he again answered by referring the court to his evidence-in-chief, and added that there was a meeting at State House which the 2nd accused attended.
Responding to questions by defence counsel E. Jah, the former SG stated that it was correct that exhibit C was his statement, and that he stood by his statement.
He added that it was correct that he "wrote exhibit E pursuant to directive" given to him.
Under cross-examination by the Director of Special Litigation, Daniel O. Kulo, the witness adduced that the people he found discussing the issue of Amie Bensouda and its implications were the former AG and former Solicitor General.
Further asked by Kulo who else was present at that meeting, he replied that for reasons related to his oaths, he could not say certain things in court.
Asked whether he was present at the time the executive directive was issued in the issue of Joseph Wowo, he replied that he was present, and further referred the court to exhibit C, which was written by him.
As to how executive directives were issued, he repeated that he had earlier told the court that he is under oath, and that directive are given in different forms
It could be through a file which was minuted; and it could be oral, where 'you are asked to take your notebook and take notes'; and it could be through a third party, which 'you have to verify.'
Njogu Bah adduced that when this particular directive was given to him, he recorded it in his notebook, and that book was available within the premises of the court, which was his diary.
At that juncture, there was a strong objection on the issue of the diary.
The case continues on 4 November 2013, for ruling on the objection.
Read Other Articles In Article (Archive)