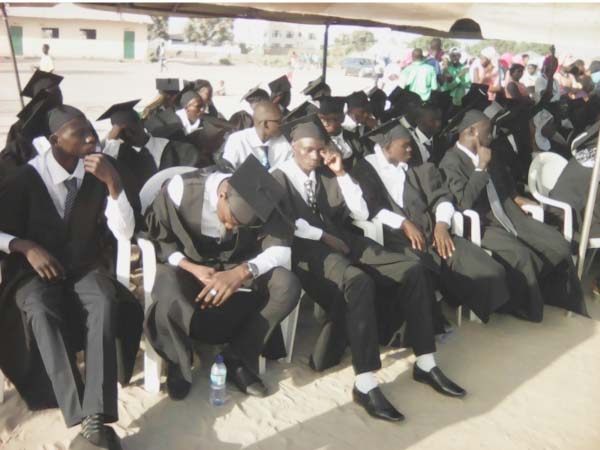 The ceremony attracted students, including former students, teachers from the sister schools and representatives from the education ministry and local communities among others.They were happy to see their loved ones in black gown after successfully completing their course at the school.
Speaking on the occasion, Madam Isatou Ndow, vice principal and head of education, Gambia College, said graduation is always a special occasion; it is special for the graduates whose success the ceremony celebrates.
"It is also special for all those who contributed to this success – parents, teachers, administrators and friends," she said, adding: "I know that all of you graduating today are looking forward to life with high hopes and dreams.It is not bad to dream and have high hopes but hoping and dreaming alone without any realistic concrete plans tantamount to nothing."
She noted that one needs to make his/her dream and hope a reality by working hard to capitalise on the opportunities and surmount the challenges that lie ahead.
Thinking of parties and having fun and do what you want is not too bad as long as you are young but one must be careful in choosing the life you want to be.Never stop learning, read always no matter where you are, there is always something to learn.
Pa Saihou Sohna, principal of Nemasu Upper and Senior Secondary School, said the graduation marked the 9th ceremony and it was a great day to remember and recognised in the history of the school.
"It is a day of stock taking of 2015-2016 academic year, the year of hard work, the actualisation of goals set and acknowledgement of successes achieved," he said.
He said the senior school has an enrollment of 611 students: 276 boys and 335 are girls; the upper basic school has 82 students in total out of which 45 girls.
He said the greatest challenge the school continued to face is classroom space as there are only six classrooms which students are alternating in morning and afternoon shifts due to enrolment increment over the years because of School Improvement Grant which covers school fees, textbooks bill for grade 10 and 12 by the government through MoBSE.
He said his school has tremendously gained achievements in the area of academics and that has raised the flag of the school to higher height thanks to his dedicated and motivated teachers and all other stakeholders who have one way or the other contributed.
Adding that, memories will not forget the late Musa B. Saine a veteran educationist and the founder of junior secondary school which today is upgraded to a senior secondary school and his wife Agi Nemuna Jawneh stood firm to see the progress of the school by managing the school from strength to strength.
Read Other Articles In Article (Archive)