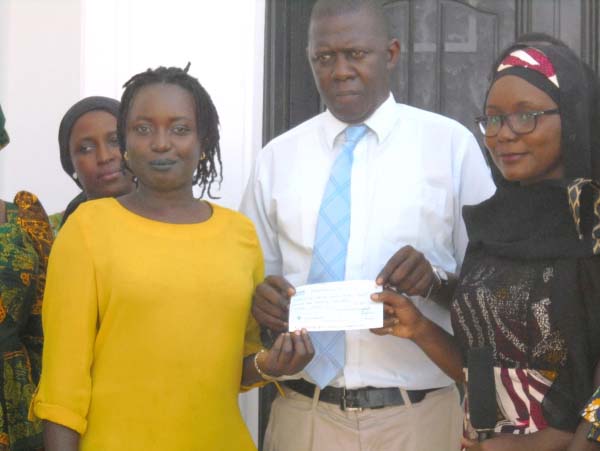 Royal Africa Holdings (RAH), an investment holding company in The Gambia, has donated D200,000 to the national organising committee of Banjul+10 conference.
The conference is aimed at advancing the agenda of youth empowerment and development by ensuring mutual accountability to the obligations of African Youth Charter.  It will also re-affirm the commitments of stakeholders in the Decade of Youth 2009 – 2018.
More than 350 participants from across Africa are expected to attend the conference to be hosted in The Gambia at a hotel in Kololi on 21-25 May 2016.  
The purpose of Banjul+10 African Youth Charter (AYC) commemoration is to provide a common platform for member states to conduct peer review of their investments to prepare the future for Africa's youth.
The theme of the commemoration is "10 Years Implementation of the African Youth Charter: Accelerating Youth Development in Africa".
Abdoulie Jallow, co-chairperson, national organising committee of Banjul+10, said the money donated by RAH will go a long way in helping the committee meet its targets.
"It is a gesture that is highly needed and appreciated; the money will help us to implement the activities of the conference," he said.
He called on other institutions to follow the footsteps of RAH, saying any contribution towards the conference is a contribution towards the development of the country as a whole.
The Gambia is said to have played important roles in the growing process of the AYC as it was one of the first five countries in the continent to ratify and subsequently implement the Charter.
Fadila Ahmad, portfolio manager at RAH, said the company believes in youth empowerment and socio-economic development of the economy of not just The Gambia but Africa as a whole.
"We believe that Banjul+10 is an opportune platform for us to render support to youth development.  This is what motivated us to donate money to the organisers of the event," she said.
Madam Ahmad who also doubles as the principal coordinating assistant, Prince Ebrahim Future Africa Foundation (PEFAF), said expectations are that after the Banjul+10, youth will be more proactive, and become ambassadors and advocates of peace in their various countries.
"We should go beyond talking about development to the active involvement of youth in implementation of projects and policies like the implementation of African Youth Charter," she said.
Organisers of Banjul+10 said the forum will serve as a high-level political forum for intergenerational discourse and advocacy, agenda setting and celebration of African youth initiatives.
It will also showcase progress Africa youth are making across all fields of human endeavour surviving against all odds, leading young, innovation, creativity and public service.
The outcomes of the Banjul conference will feed into the second AU Specialise Technical Committee meeting of AU Ministers in Charge of Youth, Culture and Sports.  The outcomes will also serve as roadmap for the 2017 'African Year for Harnessing Demographic Dividends for accelerated Youth Empowerment'.
Read Other Articles In Article (Archive)