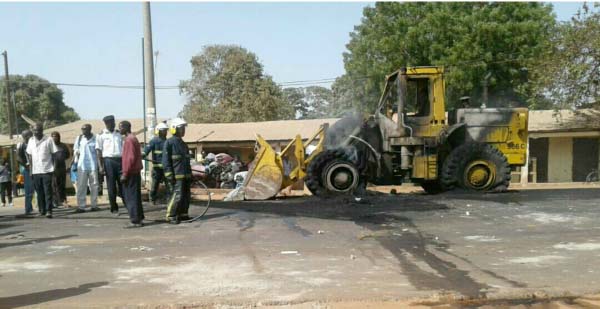 The police have arrested seven youths in Farato and took them to Brikama Magistrates' Court where they were charged with willful damage of properties, assaulting police officers while on lawful duties, incitement of violence, and riotously destroying machinery.

Police spokesman, Inspector Foday Conta, said the seven were taken to the court on Wednesday at 4:15pm but the matter could not proceed for it was already closing time. The case was adjourned to Monday, 29 May.
Meanwhile the seven youths are currently in remand.
The youths were among many that took to the streets of Farato on Tuesday afternoon when a demolition team, including officials of Physical Planning under the Ministry of Works and accompanied by personnel of Police Intervention Unit, came with a bulldozer to demolish compounds and other settlements in Farato towards Bafuloto.
The demolition team came with some people who claimed to be the original owners of the disputed land, saying they had secured a ruling as the landowners and that the present occupants of the land should be evicted.
Lamin Cham, an eyewitness and resident of the area, said the demolition team immediately started to destroy the compounds, leaving residents in some compounds without an option of even moving out their belongings and sick people.
He said as the demolition progressed, residents of the area, mainly women and young people, gathered around and started throwing stones at the demolishers who had to run and seek for protection at the Farato Police Post.
Upon arrival at Farato Police Post, some youths and victims of the affected community began to take revenge by burning tires on the highway and also burned the Bulldozer used to demolish the compounds. The Mercedes Benz belonging to Saja Gibba, one of the people claiming to be original owners of the disputed land, was also burnt, Cham said.
As the tension increased, the police at Farato post sought reinforcement from PIU personnel to control the crowd.
Other eyewitnesses said the police used teargas to control the crowd.
Meanwhile, the office of the IGP, through the police spokesman, urged the general public to be law abiding and always refer to the due process of the law instead of taking matters into their own hands.
Read Other Articles In Article (Archive)