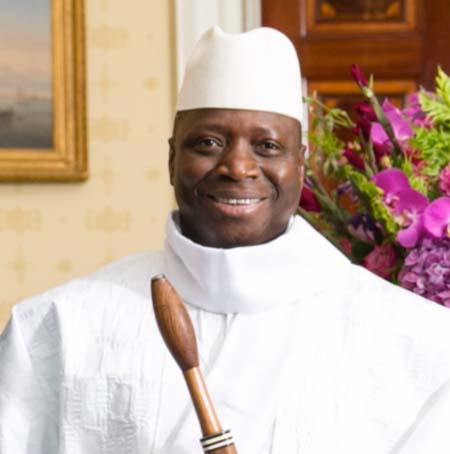 President Yahya Jammeh has stated that Gambians today live a better and quality life, thanks to his impeccable development road map with numerous infrastructural developments, free education initiative, free healthcare and low cost of living in The Gambia.

''This is the only country in Africa where secondary education is free, and by 2018 university education will be free.''
President Jammeh said these while addressing tens of thousands of APRC party loyalists, at a mass rally held at Tallinding Buffer Zone on Sunday.
Speaking at the rally, the president said Muslims are bound to coexist with non-Muslim faiths in peace.
''As a Muslim, you cannot hate people because of their religion; let them worship whatever they want and you worship whatever you want."
President Jammeh said the upcoming election would be an exception from other African elections, which are usually characterised by violence.
''The Gambian election would be the only election that is synonymous with absolute peace and stability, without compromise,'' he declared.
Commenting on the need to conduct a peaceful election, President Jammeh called on voters to come out massively and cast their votes, and then go back to their homes.
He said the government would not condone any attempts that would jeopardise the peace and stability of the country.
The Minister of Works and campaign manager, Balla Garba Jahumpa, described President Jammeh as an embodiment of peace and a champion of development.
He then gave the crowd a rundown of the infrastructural developments registered under President Jammeh's two decades plus in power.
KMC mayor Yankuba Colley expressed optimism that this year's election victory by the APRC would be unprecedented in the history of electioneering in the country.
Neneh Mcduoall Gaye, Foreign Affairs Minister and APRC liaison officer for the area, said free healthcare and free education are among the achievements that should convince anyone to vote for President Jammeh.
Pierre Minteh, a party militant and the protocol and welfare officer at the Gambian Embassy in Washington DC, spoke at length about the development Gambians are enjoying under the APRC government.
He hailed the students for their support and love for President Jammeh, and encouraged them to be God-fearing and show respect to their parents.
President Jammeh was yesterday expected to hold similar rallies in Bakau, Sukuta and Sinchu Alagie.
On Tuesday, President Jammeh will address his final rally, of the current nationwide campaign tour, in the capital city of Banjul.
Read Other Articles In Article (Archive)