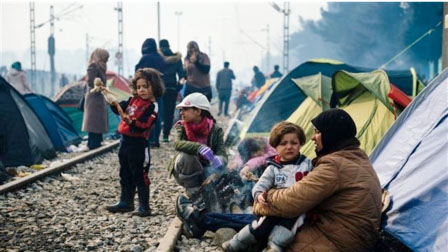 The number of people displaced by conflict is said to have reached the highest level ever in history, the UN refugee agency has said.
The agency said 65.3 million people are either internally displaced, asylum seekers or refugees.This is an increment of 5 million people from the figures of the fall of 2015.
This means that 1 person in every 113 people is either an internally displaced, an asylum seeker or a refugee.
The UN agency pointed out that this scenario increases the climate of xenophobia in Europe, adding that the atmosphere of migrant crisis has increasingly speed up racism and anti-migrant ideologies throughout Europe.
In its annual report marking World Refugee Day, the UN agency said it was the first time the number of refugees worldwide had passed the 60 million mark.
"Over half of this people comes from Syria, Afghanistan and Somalia," the agency said, adding that most of the victims are hosted in the low and middle income countries.
Turkey, alone, is playing host to 2.5 million migrants followed by Pakistan and Lebanon.
More than 1 million migrants arrived in Europe by sea last year, according to the International Organisation for Migration (IOM).However, other agencies put that number much higher.Some 35,000 arrived by land, within the same period.
The preferred destinations for most of the migrants were richer northern countries like Germany and Sweden.
"This is reflected in the UN's figures for new asylum applications in 2015, which show that Germany was the largest single recipient, followed by the United States and Sweden," the refugee agency said.
'Climate of xenophobia'
Analysts said the European migration crisis has caused significant political rifts within the EU, with some states inside the border-free Schengen area putting up fences and re-imposing frontier controls.
The European bloc reached an agreement with Turkey in an attempt to limit the mass movement of people into the EU – the deal has been heavily criticised by human rights groups.
The UN refugee agency said European leaders need to do more to coordinate policies and to combat negative stereotypes about refugees.
Read Other Articles In Article (Archive)