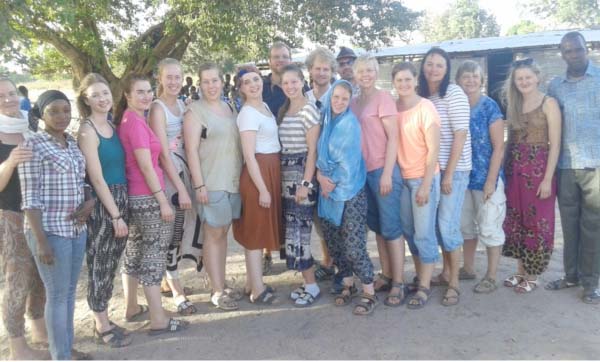 The officials of 4H Norway are currently in The Gambia for a two-week exchange visit to 4H Gambia youth clubs.

The team visited the communities of Bayaba, Manna and Jarumeh Koto of Central River Region and had meetings with the youth clubs.
Tor Brekke, team leader from Norway, said they attach great importance to the promotion of exchange visits between 4H Norway and 4H Gambia in promoting cultural ties.
He said the visit availed them the opportunity to hold a daylong training on tie and dye, and batik making in Central River Region north as part of efforts to enhance livelihood skills transfer.
The team also visited Daru Foday Ba vegetable garden, and the Songhai Centre Seed Multiplication Centre in Chamen.
Mr Brekke lauded the officials of Songhai Centre for the transfer of skills and knowledge on the use of organic farming among the youthful population to improve food production and productivity.
He said the concept Songhai Centre was realised by 4H in 1980 at the community of Kerr Ngorr, North Bank Region to contribute to employment creation.
Alieu Ceesay, national coordinator of 4H Gambia, commended the communities and youth for their invaluable support in strengthening the concept of 4H in sustainable development.
He said the exchange visit has contributed in sharing cultural practises and enhance networking and learning more about family lives in the country.
Mr Ceesay said 4H is committed to youth development and empowerment, citing the provision of revolving fund for youth to venture into animal husbandry, poultry, vegetable production and other income generation activities to enhance sustainable livelihood.
4H national coordinator said the 2017 exchange visit is centred on promoting networking and partnership for stronger linkages in advancing youth and women development to attain national development objectives.
Ceesay said his organisation has piloted 4H clubs in schools in CRR and plans are in the pipeline to scale up and provide training to schools on agricultural practises to enhance food production and nutritional supplementation.
Bala Dumbuya, 4H cluster committee and board member, thanked their partners in Norway for their "unflinching support and cooperation" over the years.
He said the revolving fund has supported the community of Kerr Ngorr to have 12 cows, 3 sheep and mobilised D12,000 for the club's account.
The fund helped to provide 6 solar panels to youth club members as part of the lightening project initiative to ensure that people have the opportunity to charge mobile phones to ease communication.
Anne Kan Eliassen of Norway, a female representative, said the initiative enhances public speaking, and promote team building and information sharing
Read Other Articles In Article (Archive)