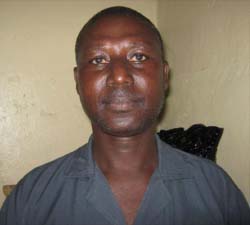 The Gambia Volleyball Association National League recently wrapped up after four months of intensive games in both male and female categories.
According to the president of the Gambia Volleyball Association (GVBA), Musa Cassa Taal, the leagues started in August 2011 and the first rounds ended in December 2011.
Actions, he says, resume in the second rounds in early January 2012.
Six teams are competing in the male category and five in the female category, he added, saying Old Jeshwang male volleyball team are leading the male league standing, while Interior female volleyball team are currently leading in the female league standing.
The league is being played in a rotational competition form by teams from the Greater Banjul this year.
Mr Taal says his association is expecting more teams to register in both the male and female categories.
Male League Table
RANK                            MATCHES                            SETS
Club's Name                  points    played   won  lost   played    won   lost
Old Jeshwang                 15            5        5       0       16        15      2
Gamtel\Gamcel               12           5        4       1       18         14      4
GAF                                9            5        3       2       19        10       9
SK East                          6            5        2       3        17         8       9                                                             
Brikama                          3            5        1       4       16          4       12
Interior                            0            1         0      5        3           0         3
Female League Table
RANK                          MATCHES                   SETS
Club's Name                points    played   Won    Lost    Played   Won    Lost
Interior                           15       5             5         0        18         15       3
Gamtel\Gamcel                9       4             3         1        13          9       4
GAF                                6       4             2         2        15          9        6
SK East                           3      4              1        3         16         4        12
Brikama                           0      4              0        4         14         2        12
Read Other Articles In Article (Archive)