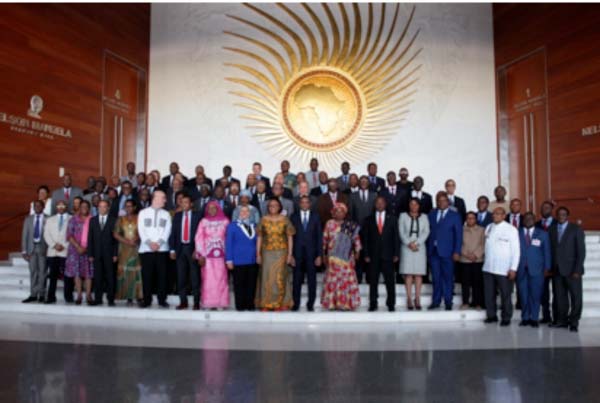 The Chairperson of the African Union Commission Dr Nkosazana Dlamini Zuma has called for the general adoption and upholding of the values of Pan Africanism, which include putting Africa first; the commitment to the African people, their dignity and aspirations; and our passion for democracy, peace, integration, development and building unity of purpose even in the face of difficult challenges, within 'a single institution to which we all belong'.

H.E. Dr Zuma was speaking on Sunday 22nd of January 2017, at the official opening ceremony of the 33rd Ordinary Session of the Permanent Representatives Committee (PRC) at the African Union Headquarters in Addis Ababa, Ethiopia, under the theme: "Harnessing the Demographic Dividend through Investment in Youth."
The opening ceremony took place in the presence of the Deputy Chairperson of the AUC, H.E. Mr Erastus Mwencha, AUC Commissioners, representatives from the diplomatic corps, the international community, civil society, the private sector and invited guests among others.
H.E. Dr Dlamini Zuma, in her opening address, paid special tribute to the Gambian Ambassador to the AU, H.E. Mr Mass Axi Gye, for the resolute and decisive leadership of ECOWAS and the Peace and Security Council, who worked in close collaboration to avert the crisis in The Gambia by standing firm and acting as true Pan-Africanists.
She concluded by saying: "It is important in the coming years as the world is changing, and we will be operating in a world that we are not familiar we should be resolute in working towards our Agenda 2063 so we can bequeath our future generation by having a peaceful, prosperous Africa."
Ambassador of the Republic of Chad and Chairperson of the PRC, Mr Cherif Mahamat Zene in his welcome remarks, thanked the PRC members for all the work they have been doing during the preparatory meeting and urged them to make clear recommendations to the Executive Council and subsequently to the Heads of State. He concluded his remarks by wishing all the members successful deliberations and declared the meeting officially open.
Read Other Articles In Article (Archive)