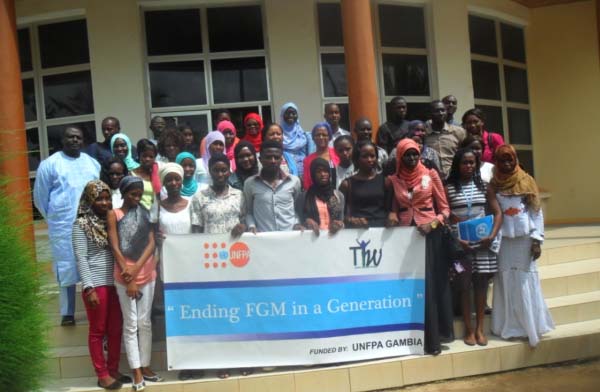 Think Young Women (TYW) on Monday opened a five-day training workshop for 30 youth advocates in the Greater Banjul Area on Female Genital Mutilation/cutting, outreach, advocacy, and communication skills at the NaNA Conference Hall on Bertil Harding Highway.
Think Young women (TYW) is a women-led non-profit resident organization, that aims to inspire and assist girls and young women to achieve their individual needs and collective interest, leadership development and empowerment through capacity building, awareness raising, networking and mentorship.
The training session was funded by UNFPA.
Delivering the keynote address, UN representative in The Gambia, Ade Mamonyane Lekoetje, said FGM/C is a deep rooted traditional belief and practice that continuously threatens the lives of millions of women across the world.
Today, more than 125 million women and girls have experienced FGM in Africa and the Middle East.
It is estimated that 30 million more will be affected by 2025, she added, and that FGM has devastating reproductive and psychological health consequences, in addition to the economic costs incurred for treatment when things go wrong.
In Africa, including The Gambia, they have gone a long way in the campaign against FGM.
The UN resident coordinator also stated that not long ago, it was taboo to discuss FGM in public places; however with the growing concerns related to its negative implications and the advocacy by stakeholders, the silence has been broken and it has now become an issue discussed openly in many forums.
Despite the growing awareness, FGM remains a predominant practice in The Gambia with 72.9% of Gambian women still subjecting their daughters to it, she went on.
The UN in The Gambia has supported and will continue to support projects that accelerate the abandonment of FGM in the country, Ms Lekoetje declared, adding that eradication of FGM is pertinent in the post-2015 agenda.
The role of the media in the fight against FGM cannot be over-emphasized, as the media can play an important role in creating awareness on the harmful effects of FGM, the UN official continued.
Kajali Sonko, deputy Executive Director at the Women's Bureau, said: "As we witness another important and remarkable moment in our collective efforts to eliminate FGM/C, let us remember that women and girls continue to be victims of such violence across the continent and the world at large.
"This calls for a concerted effort from all parties actively involved in promoting the practice of FGM/C in The Gambia."
He said the role of government in eliminating violence against women and girls is twofold: Firstly, the government ensures that there are preventive measures to mitigate violence, and secondly to put in place legislative measures for litigation and addressing impunity.
Amie Kujabbi, national coordinator of TYW, said the training activity, which brought together 30 youth advocates, is part of their activities with funding from UNFPA.
It is to make sure that women and girls achieve their individual needs and collective interests, leadership, development and empowerment through capacity building, she added, further stating that the training course is meant to equip the participants with advocacy skills that they can use in their advocacy work.
She said with issues such as FGM and GBV, they believe that they cannot do it alone, and it is also very important for them to involve their male counterparts, which is why they have male participants in their midst.
She also said at the end of the training exercise, she hoped the participants will be well-equipped with knowledge that can be used in their advocacy work.
Lamin Darboe, executive director of NYC, and Musu Bakoto Sawo, also made similar remarks.
Haddy Dandeh-Jabbie, representing the TYW board, said since inception in 2010, TYW has taken giant strides in ensuring that it does its utmost best all times, to advocate for the rights of women and children; to equip young women with life skills such as advocacy, leadership, communication skills, as well as mentoring young women and girls, among others.
It is time for them to stand on their feet and show the world the many problems FGM victims are going through on a daily basis, and how best they can avoid the practice in totality, she added. 
Read Other Articles In Article (Archive)