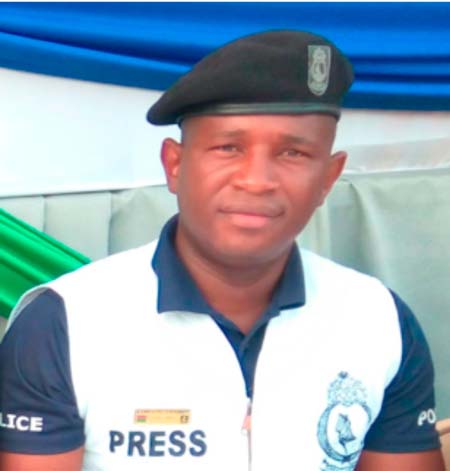 Essa Jarjue, a 22-year-old man, has allegedly raped an 8-year-old girl in Lamin village leading to her death, the police said.

Essa is a Senegalese national residing in Tabokoto. He has now been identified by the police as an alleged serial rapist after he confessed to have raped or attempted to rape five people within one month.
Police spokesperson, Inspector Foday Conta, said the man is currently under the custody of Yundum/Banjulinding Police Station for thorough investigations.
In his confession to the police about how he allegedly raped the little girl in Lamin village on 29 May 2017, Essa said he was walking around when he saw an opened window in a particular compound.
"He [Essa] peeped inside and saw a little girl sleeping; he scaled over the fence and entered the room through the window and forcefully had canal knowledge of an 8-year-old girl," Police PRO Conta said.
"In order to prevent the little girl from screaming, he [Essa] covered the girl's mouth and nose with his hand leading to the untimely death of the girl."
Pregnant woman also dies
The Senegalese man has also admitted to the police that he was responsible for the death of a 7-month pregnant woman in Faji Kunda who he attempted to rape.
According to the police spokesman, Essa, in his confession, said he found a door opened quarter way and he entered inside after seeing a lady sleeping with her young child.
"He [Essa] climbed on her and the lady noticed him, as a result he covered the lady's mouth and nose leaving her unconscious," Conta said.
After the realising that the lady was pregnant, he could not do anything so he allegedly stole her mobile phones and vacate the house.
The following morning the woman was found dead in her house and further investigations, according to PRO, revealed that she died as a result of being strangled by her alleged killer.
Other victims
Police investigations revealed that in addition to the dead victims, Essa is alleged to have attempted to rape four other people, two on the same day.
PRO Conta said on 15 June 2017, Essa was caught breaking into a dwelling house and attempting to rape a woman in New Yundum. He was escorted to Yundum/Banjulinding Police Station where the matter was subjected to thorough investigation.
Like his previous two incidences, Essa confessed to the police that he was passing through a compound and saw an opened window; glimpsed through and saw a lady sleeping. He then scaled through the window and allegedly attempted to rape a 23-year-old woman by forcefully pressing her neck to silence her.
"The lady struggled until she had a way out then yelled for help but the rapist escaped through the door. He carried along a dual sim mobile handset, marked ITEL belonging to his victim," Conta said.
On the same day, the alleged serial rapist proceeded to another compound in New Yundum.
He used a similar mode of operation of entering through the back door that was half way opened. Upon entering, he saw a lady, believed to be in her 18th year, lying on a wooden arm chair and allegedly attempted to rape her as well.
"The lady, upon realising some abnormalities around her body, screamed for help which forced the alleged rapist to run again," Conta said.
However, the man was eventually caught in the street by a group of boys who escorted him to Yundum police station.
Under interrogation by the police investigators, Essa confessed that on 26 May 2017, between the hours of 03:00 and 04:00 he attempted to rape a 32-year-old lady of Lamin village in the Kombo North.
Though he was unsuccessful, he managed to steal her two mobile phones.
The following day, 27 May 2017, at about 02:00hrs, Essa again attempted to rape another young girl of age 19 in a compound in Lamin village.
"Before the girl noticed him, he succeeded in tearing her underwear apart," Police spokesperson said. "As the girl noticed him, Essa strangled her and attempted to forcefully penetrate her but failed, thus causing him to discharge on her thigh."
Conta said the samples of the sperm cell were collected by the police and is undergoing through laboratory test by the police scientific support unit.
He said since, all his mode of operation are similar, coupled with his confession of committing the various crimes, Essa, is charged with 2 counts of murder, 4 counts of attempted rape, and 4 counts of housebreaking and stealing.
Read Other Articles In Article (Archive)