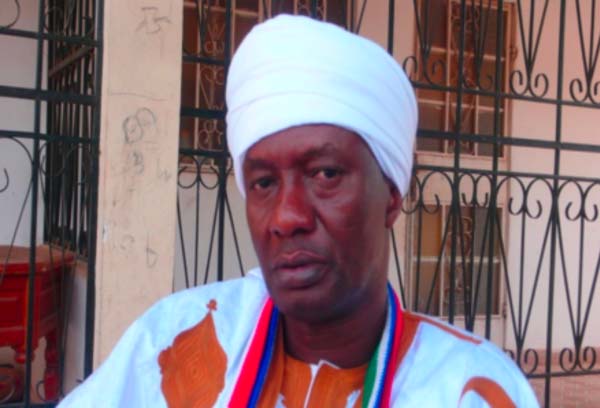 A private businessman and philanthropist, Momodou Turo Darboe, has been named as the "Person of the Year, 2014" by the Gambia Communication Agency and Baroueli Enterprises, the publishers of the weekly "News and Report" magazine.
Darboe has been engaged in philanthropic work for quite sometime now, helping the needy and making generous donations to various causes in the country.
In a congratulatory letter conveying the message to Mr Darboe, Mr Swaebou Conateh, proprietor and managing director of the Dippakunda-based Gambia Communication Agency and Baroueli Enterprises, the publishers of the weekly "News and Report" magazine, stated that their criteria for selecting him "Person of the Year" (previously 'Man of the Year') is based on the following considerations:
1. The person selected must be someone who, through his/her work, profession or personal endeavour, is judged to have contributed the most to the public welfare and to advancing the country's development in the interest of all Gambians.
2. He or she must have contributed significantly in enhancing in a direct and tangible form, the social and economic status of Gambians as a whole.
3. He or she would have put in place for posterity facilities and or infrastructures and other achievements that can serve as a lasting memorial of his/her contributions to national development.
The letter stated that Darboe's selection by the management of the magazine was because they are satisfied that he has met the criteria for the award in view of his highly acclaimed self-less service to the people of The Gambia.
It is in view of the above that they have therefore decided to designate him "Person of the year 2014."
Conateh pointed out that "1. As an innovative and inspiring person, your case also illustrates possibilities for individual citizens who care enough about the future and well being of the people of this country and for humanity in general.
"2. By such example, you have earned for yourself a name and an indelible place in the annals of Gambian history as a philanthropist par excellence.
"3. Since we also believe that your award can serve as a source of encouragement for you to do more for humanity in general, and to encourage others to emulate your fine examples, we take this opportunity to salute you for your contribution to the development of our dear country and its people.
"We know your sacrifice, steadfastness and highly commendable contribution to the advancement of humanity, and your leadership qualities, are bound to remain a source of inspiration and exemplary conduct to Gambians for now and generations unborn.
"The Gambia News and Report weekly magazine is satisfied that you have met the requirements to be designated the magazine's 'Person of the Year 2014', and we take this opportunity to congratulate you most heartily on your selection and designation as well as your well-merited recognition."
Previous Man/Gambian/Personality of The Year named by this magazine were: Amadou Samba (businessman); Pa Sallah Jagne (former IGP in 1993); Dr Ebrima Samba (formerly of WHO); late Dr Lenrie Peters; Politician Lamin Waa Juwara; Aja Dr Isatou Njie-Saidy (Vice-President); Bye Lamin Jobe (ex-Gamworks DG); Mrs Harriet Ndow (seasoned educationist); late Imam, Karamo Touray (Brikama Imam); Mr Hassan Jallow (Justice); Ousman B. Conateh (Fisko); Muhammed Jah (QuantumNET); late Journalist Deyda Hydara (post-humous); Pa Sallah Jeng (former Mayor ofBanjul); Bolong Sonko and Mustapha Njie, alias Taf (joint-winners); President Yahya Jammeh; Dr Isatou Touray (gender-activist); Kora Maestro Jaliba Kuyateh: Former President Sir Dawda Kairaba Jawara; Lawyer Fatou Bensouda (Chief Prosecutor of the Hague-based ICC), The Most Rt. Rev. Dr S. Tilewa Johnson (Ninth Archbishop and Primate of the Anglican Church of the province of West Africa, and Mr Ibrahim Ceesay, Executive Director of Children and Community Development Initiative forDevelopment (CAID) and Director of the film: "The Hand of Fate".
Read Other Articles In Article (Archive)