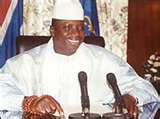 President Yahya Jammeh has described as 'very successful' the year 2010 for The Gambia in many aspects, but also noted that it has been an eventful year, in both positive and negative ways.
In his traditional New Year message, President Jammeh cited what he called historic achievements in 2010, such as the completion of the new Sankulay Kunda Bridge, and other projects as landmarks and a perpetual source of pride, inspiration and encouragement for all of us.
Below we reproduce the full text of President Jammeh's New Year message:
Fellow Gambians and Friends of The Gambia
As we mark the end of 2010 and the first decade of the Twenty-First century, we express gratitude to the Almighty Allah for all his blessings in the past, and pray that we live to witness such moments in compete tranquility.
Wisdom dictates that as we usher in a new year and a new decade, we reflect objectively on what we did right in the past; where we made our biggest leaps and achievements; and where we failed and why. At the nation level, it is imperative to ponder over the fundamental and perplexing question of what we need to do to meet our targets and goals, especially within the context of Vision 2020.
Fellow Gambians
Although it has been an eventful year in both positive and negative ways, 2010 has been a very successful year for the Gambia in many aspects. The historic achievements we made, such as the completion of the Sankulay Kunda Bridge and other projects, stand out as landmarks and a perpetual source of pride, inspiration and encouragement for all of us.
The establishment of new bilateral relations and the agreements concluded during the year also serve as endorsement of my Government's positive foreign policy and efforts both at home and abroad. I hope this will drive home the extent of our resolve to develop this nation to the highest standards. We are aware, though, of the challenges that continue to surface, including those created by recalcitrant saboteurs who seek to mar our achievements. But we will always prevail, because the Almighty Allah is on our side.
In retrospect, key among the mishaps of the recent past has been the crippling global economic crisis that gripped nations, big and small alike. It was a crisis of a devastating magnitude which undermined economic development across the globe; but, we fared through it spectacularly registering a real GDP growth of 5.5% for 2010. This is something that some of the most powerful nations could not do.
The moment reminds us starkly that 2020 is only a decade away - the target to translate into reality our vision of transforming The Gambia into a middle-income nation. Thus, while we take comfort and pride in the achievements made during the year, it is bewildering to know that not all Gambian citizens have taken seriously the agenda of developing their motherland. History instructs that our destiny cannot be taken for granted, nor be left to chance. We have undertaken to tie our destiny to a national vision, therefore, let it be a rallying point for each and every citizen, irrespective of his or her political leaning.
Visions can be illusive if they are not translated into practical plans and executed within the context of their conception. Vision 2020 is no exception. Whilst the role of government and the leadership has been unequivocally clear and consistent, there is need at the other strata of society to look inwardly for a more concerted effort, and for a rededication to achieving the targets and objectives that we set ourselves based on our development programmes.
Follow Gambians and Friends of The Gambia
The report on the status of the MDGs in The Gambia provides solace and cause for optimism through the revelation that the Gambia is on track to achieving the MDG targets encompassing enrolment and completion of primary education; reduction of the illiteracy rate by 50% by 2015; enhancing child and maternal health; lowering mortality; and increasing life expectancy, to cite a few examples. It is in the area of poverty reduction that success has been lowest for us, in spite of all the interventions from Government, the private sector and the international community. What are the implications, and what questions must we ask ourselves in our quiet moment in this regard?
While I invite reflection on this dilemma, it is my conviction that the nascent Programme for Accelerated Growth and Employment will prove catalytic in the transformation process of our various sectors and communities for the much desired longitudinal and vertical process that Gambians rightly deserve. Therefore, my Government's preoccupation of creating and maintaining a productive climate for every genuine person to be fully employed within the precincts of conducive legal frameworks, institutions and policies will be intensified. The ultimate objective of this remains the facilitation and empowerment of each citizen to contribute significantly and positively to their welfare and to national development.
We are resolved in the uncompromising pursuit of massive economic growth, better quality of life for all, guaranteed essential services and enjoyment of all forms of freedoms, once there is no conflict between the exercise of one's individual rights and the national laws. Let me reassure you that I will never falter in standing by the people, serving them and defending them so long as you stand by the interest of the country. In short, nothing can take prominence over upholding and sustaining the right to human dignity, peace and a happy life, marked by self actualization.
Government is committed to facilitating vertical economic and social mobility, but this cannot materialize in the absence of the right type of support and participation from the citizenry. The culture of hard work, honesty, productivity, sincerity and determination to better one's circumstances with honesty must be linked to the right attitude and degree of discipline. Together, we must march forward to the building of a better country for all. Together, this would be a very simple task INSHALLAH.
As Africans, we now realize that malaise and the culture of indifference, where laziness is rewarded, especially in family circles, is counter-productive and can be very detrimental to progress towards economic prosperity and national development. Let us promote interdependency in which each person contributes to the success of the family, the community and the nation. It is only through this that the well-known dependency syndrome in the Gambia can be eradicated from our society.
I encourage all Gambians to endeavor to acquire at least one marketable skill, entrepreneurial skill or productive skill to break the cycle of unwarranted dependency that continues to increase, as well as entrench the level of poverty in the country. Poverty undermines development, accentuates disease, contributes to low productivity and impedes social mobility.
Fellow Gambians
One of the regrettable events of the year was the unprecedented upsurge in drug trafficking and violent crimes which, in some instances, involved senior law enforcement and security officials in the country. The lesson to remember is that when one nurtures a wild serpent, you are putting yourself as well as innocent lives at risk. The implication is that the victim of the criminal you harbor and protect may be yourself or someone close to you. Better explained, the destruction of any segment of a nation is always to the detriment of the entire people. Therefore, no one should be indifferent to these dreadful crimes that would render us insecure and vulnerable to unscrupulous persons and dangerous criminals.
Measures that would be adopted in the years ahead will include the reform of non-performing or defunct institutions, the rejuvenation of effective management systems and sharpening the focus of our organizations and strengthening legal instruments meant to combat this scourge. In addition, it is vital to cultivate the ethos for effective public participation or patriotic citizenship to ascertain that government succeeds at all fronts of national development.
Government will also continue to create the conducive environment for everyone to lead safe and happy lives through equal opportunities, improved quality of services and a more rational distribution of the national wealth. However, we must critically ponder over what has been going on around us. Everyone seems to know what they want for themselves and their families, but do we realize or take time to comprehend how we deliberately or inadvertently contribute to impeding our collective progress, thereby perpetuating our predicament? As the clock ticks, let it be known that other nations and peoples are working tirelessly on what they want for themselves, their families and the generations that will come after them. The time has come, therefore, for Gambians to wake up to this reality and move faster.
Compatriots and Friends of The Gambia
Our position on developments within the immediate neighborhood and the world at large remains unchanged. It is one of pragmatic neutrality, realism and forthrightness.
My Government and I, in particular, will continue to subscribe to the proactive pursuit of global peace and justice; and will therefore not idly wait to see instability and anarchy unfold through recklessness and total disregard for the well-being of peace-loving and law-abiding people who deserve the protection of their government. Accordingly, we condemn in the strongest terms all the war-mongers and merchants of death who wreak havoc and mayhem around the world. These people deserve nothing but the hottest part of hell and Inshallah, they shall never live in peace even in the next world.
The Gambia will continue to play its rightful role effectively on the world stage. At the international fora, we will continue to stand for the ideals, principles and values upon which our governance structures and approaches rest. At the regional level, we shall ensure that our competitive advantage is exploited and maintained, and that the march towards regional and continental integration is pursued in the interest of our respective African nations and peoples. Whilst opting for policies and frameworks that accord with the realities of our peculiar circumstances, and building partnerships and relations with all and sundry, we shall continue to press for economic and political independence. We are committed to this, and will remain steadfast in this direction.
I wish all of us a very happy prosperous and peaceful year 2011, and may all our noble resolutions for the coming year come true in the best interest of all of us.
May the Almighty Allah continue to guide, protect and bless The Gambia.
Thank you for your kind attention.
Read Other Articles In Article (Archive)