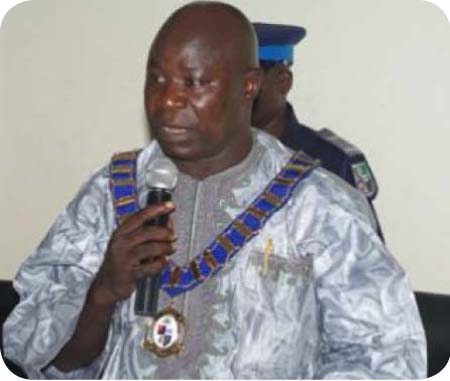 Mayor Yankuba Colley of the Kanifing Municipality Council has revealed that in 2009, 2.6 million people worldwide became newly infected with HIV, and 1.8 million people died of Aids-related illnesses.
He added that more than 6.6 million people now have access to life-saving drugs, but nearly 10 million people living with HIV are still waiting for treatment.
Mayor Colley was speaking recently at the launching of the Early Infant Diagnosis at the Jammeh Foundation for Peace Hospital in Bundung.
According to the Mayor, the report also shows that 370,000 children were infected with HIV through mother-to-child transmission down from 500,000 in 2001.
"This was why UNAIDS have called for a new deal where governments, donors, civil society and other stakeholders come together in new and innovative ways, sharing responsibility and accountability for results," the Kanifing Mayor said.
He said the global AIDs response is at a crossroads, adding: "We know that change begins with high-level commitment."
Mayor Colley further stated that ten years ago, heads of state and government came together at the first UN General Assembly Special Session on HIV/AIDS to launch a coordinated worldwide response to HIV.
It was the first time global leaders had ever cooperatively addressed the lethal health impact of HIV, he said, adding that it also marked the historic moment the world began to understand and respond to the social, economic and security implications of the AIDS pandemic. The vulnerability of women and girls to HIV remains particularly high in sub-Saharan Africa, where about 76 per cent of all HIV positive women in the world live, he said, pointing out that gender inequality was a key driver of the epidemic in Africa."This is why HIV responses must reach into the gender violence, discrimination and inequitable laws," he noted, saying that instead of lagging behind, women and girls must be put at the very centre of the AIDS response. He seized the opportunity to call on leaders at the community, national and global level to embrace the goal towards the elimination of new HIV infections among children and keeping their mothers alive.
He thanked the Ministry of Health for the laudable initiative aimed at improving the health of children.
Mayor Colley expressed delight to report that despite setbacks caused by a global economic crisis, Africa and the rest of the world is making remarkable progress in reversing the AIDS epidemic.
In the past decade, new HIV infections have declined by more than 25 per cent worldwide, and 56 countries have seen their epidemic stabilized or reversed, he said.
Read Other Articles In Article (Archive)