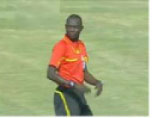 Gambia's football referee Papa Bakary Gassama has been shortlisted among 21 African referees as part of a list of 52 pre-selected for the 2014 World Cup to take place in Brazil.
Born on 2 February 1979, Papa is one of Gambia's outstanding referees who have officiated high profile matches in the sub-region and the continent.
Papa was awarded the 2011 SJAG Referee of The Year award. He was part of 84 officials appointed by FIFA who featured in the London 2012 Olympic Football tournament.He and Tunisia Jedidi Slim were the two central referees from Africa.
He has also officiated a Caf Nations Cup up to semi-final and played most of the crucial games of the tournament, which made him to be later nominated among the 5 top referees to officiate in the upcoming World Cup matches.
All the preselected referees are expected to take part in a training session to take place in Casablanca from March 27 to April 1, starafrica has revealed.
Cameroon, South Africa, Senegal, Cote d'Ivoire and Tunisia have two referees each while Egypt, Algeria, Nigeria, Kenya, Rwanda, Burundi, The Gambia, Morocco and Seychelles are represented by one each.
Tunisia referee Slim Jedidi who was said to have mishandled the Afcon semi-final match between Ghana and Burkina Faso is also part of the list of referees to represent the African continent.
The list
Alioum Neant (Cameroon), Menkouande Evarist (Cameroon), Edibe Peter (Nigeria), Bennett Daniel F. (South Africa), Range Marwa (Kenya), Siwela Zakhele Thusi (South Africa), Badara Diatta (Senegal), Djibril Camara (Senegal), Felicien Kabanda (Rwanda), Noumandiez Desire Doué (Côte d'Ivoire), Songuifolo Yeo (Côte d'Ivoire), Jean-Claude Birumushahu (Burundi), Papa Bakary Gassama, (Gambia), Jason Joseph Damoo (Seychelles), Angesom Ogbamariam (Eritrea), Djamel Haimoudi (Algeria), Abdelhak Etchiali (Algeria), Redouane Achik (Morocco), Slim Jedidi (Tunisia), Bechir Hassani (Tunisia) and Sherif Hassan (Egypt). Starafrica.com
Read Other Articles In Article (Archive)